La Cruz is a hub for cruisers along this coast, and it's easy to see why. It's a tight little fishing town with a family vibe and a thriving music scene. Add to this a full-service marina with lots of activities (including a thriving kids club), various marine service providers, a decent selection of good restaurants and easy bus access to Puerto Vallarta, and it's easy to see why people call it a "velcro" town. Easy to get stuck in. But there are worse things that can happen to your cruising season. Marina Riviera Nayarit is commonly known as (and hailed on VHF as) "Marina La Cruz."
Approach:
Wide open from any obvious approach. There is one yellow buoy marking the beginning of the anchoring area, and to the west of this a well-marked channel of red and green buoys (mostly lit at night), with a dogleg into the marina entrance. See aerial or diagram for details.
Docking:
Best to arrange a slip beforehand via email during the season. Hail Marina La Cruz on VHF 16 before entry, so dock hands have time to reach your slip. Marina La Cruz uses an interesting slip numbering scheme, which most people find confusing. Each dock has a number (1-11), with an A (south) or B (north) side, then slip numbers run from there. So your slip might be 9A10. Work it out before you enter and you'll be fine.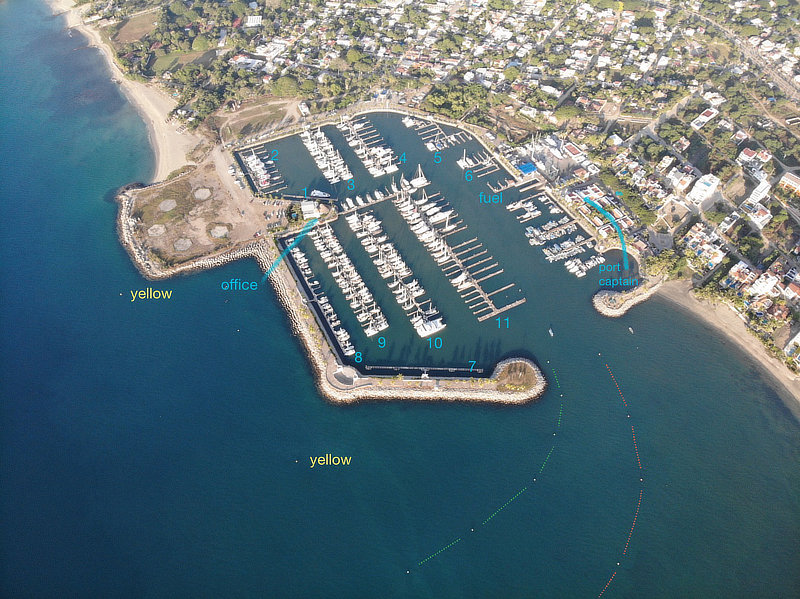 Click gallery above title for more images
Ashore:
Dozens of restaurants of various quality and reputation, many watering holes worthy of a visit, four or five small markets, ice cream, marine electronics, a full-service boat yard, two fish markets, and bus/collectivo access to Bucerias and Puerto Vallarta. There's a lot here. Check out the map for detailed listings.
Don't Miss:
Most cruisers spend a lot of time inshore at various stops along the coast, but almost all during the day. Most feel more comfortable getting back out to the boat by dark, for various reasons. Well, here's your time, and excuse, to enjoy some nightlife! La Cruz's lively music scene, and the wide selection of restaurants and bars, along with a hearty collection of like-minded sailors mean this is social central. Time to get your groove on.