Although it shares a name and airport with Cabo San Lucas, San Jose del Cabo couldn't be much different. Quiet, honest, somewhat more refined. You can still get silly here, or take a short ride over the Cabo San Lucas proper for shenanigans, but the slower pace and quietude of Puerto Los Cabos Marina will probably win you over.
Approach:
Staying well offshore transiting the 14 miles of coast between CSL and San Jose will keep you out of the fray of tourist boats poking in and out of the various beach coves along this section of coast. Otherwise, just keep your eyes open for the two breakwaters that define the channel to the marina.
Anchoring/Mooring:
On entering the channel, you'll pass the El Ganza hotel on the right, and see the Dolphin Discovery center spread out on the left. The fuel dock is the first main side tie dock you'll see on the right, which is a good spot to tie up if the marina office is closed (leave someone aboard at all times in case you need to move). The docks and slips are all rather spread out, with long walks to get anywhere. Slow down and enjoy it.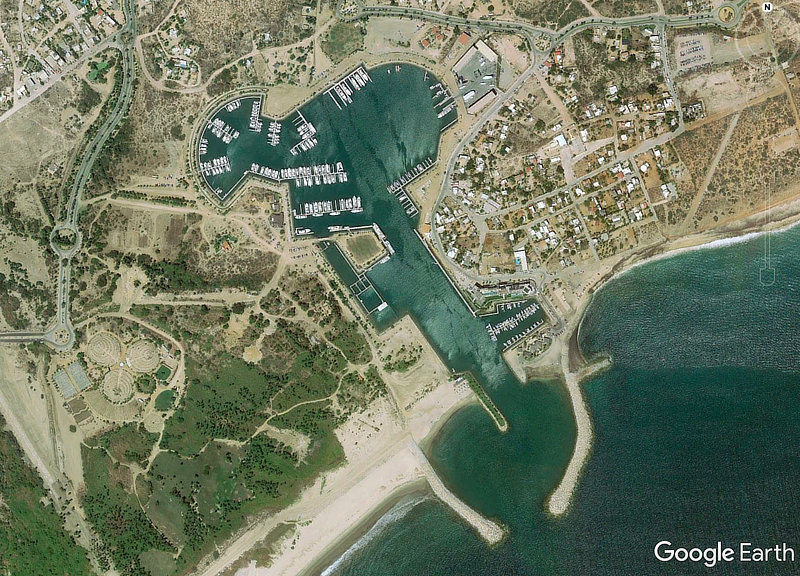 Click gallery above title for more images.
Ashore:
There are a handful of good eateries around the marina basin, and a full-service boatyard in Marine Works. This yard also has a small chandlery well stocked with maintenance and service items (and NOT sunglasses, PFDs or cup holders, for example)
Don't Miss:
Call an Uber or a cab and get into the old town area of San Jose. You'll find an upscale but not pretentious grid of cobblestone streets crowded with lovely restaurants, galleries and real estate joints. Good for an afternoon poking around, punctuated with some good food and cocktails.