For southbound sailors, the hyper-touristy Cabo San Lucas is a significant stepping stone on the way south, marking the end of the Pacific Baja leg, and opening a gateway to the lovely cruising to come further along Mexico's coast. Those who think Cabo represents the best, or even typical features of Pacific Mexico cruising will be disappointed by the endless calls of hawkers peddling timeshares, drugs and hookers to the throngs of buzzed gringo tourists. It's been said that Cabo is a lot like Las Vegas, but with fewer Mexicans. There might be some truth to that.
The marina/harbor is well protected, large and somewhat spread out, with a fuel dock to port as you enter. This area is the anchor of the tourist-oriented party town that was developed starting in the 1970s, swiftly eclipsing the sleepy fishing village and creating it's own boozy gravity.
Approach:
Clearing the obvious point of rocks that protect the bay is your only real hazard, if you don't count the nearly continuous stream of tourist and fishing boats pouring in and out of the bay. Keep your eyes open, and head for the channel at the NW head of the bay. This channel is relatively narrow, but deep and well marked. Traffic is your main concern.
Mooring:
This is a sprawling and modern marina, with a lot of traffic during the day. Be very clear on your slip location and planned approach before coming in the channel, and take your time.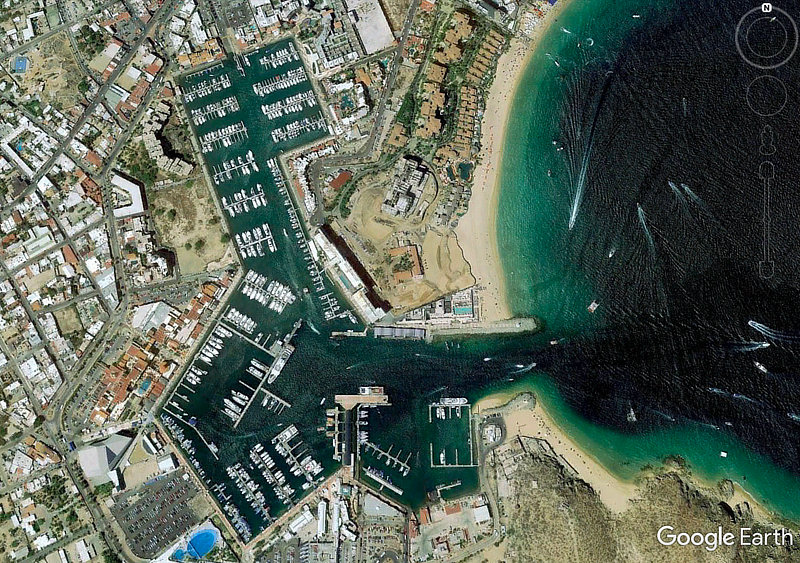 Click gallery above title for more images.
Ashore:
Everything you've probably heard about Cabo is true. It is an adult Disneyland, without the rules, or the closing time. Pace yourself and have fun. Don't be dumb or obvious in the way you throw cash around, or make a big show of expensive cameras and jewelry, and you'll be just fine. There are also some local real-Mexico gems hidden in the sticky seedy rough of Cabo, if you go looking for them.
Don't Miss:
A night at Cabo Wabo or The Giggling Marlin, just to say you did. Although if you "do it right" you might end up a little foggy on the details.