An excellent overnight stop, this place is popular with USVI charterers on the first or last night out because of the close proximity to Charlotte Amalie and Red Hook. And you still feel very much like you're out in the islands, not out in town.
Approach:
If from the West, make sure to find the Cow and Calf on your charts and get a visual. These breaking rocks have a habit of falling right into the middle of your course, and are small enough to slip into your blind spot behind the genoa. If coming from the East, Current Cut is your main concern. It's a good idea to fire up the engines through here as a preventative measure, as the current can be tremendous and the headland of Great St. James cuts the wind at just the wrong time. There are wrecks on the pebble beach here just to remind you. After that, swing on in just about anywhere, minding the extended shoal area between the tiny Fish Cay and Great St. James.
Anchoring/Mooring:
As of Spring 2011 there are 22 mooring balls here, in order to protect coral areas. These are managed by the DPNR, and everyone hopes they will stay free as they currently are. These moorings are reported to be in excellent shape (Dec. 2021), with repairs made since the 2017 hurricanes. There is still room for a few boats to anchor in sand and light grass just to the east of Fish Cay (the small island in the middle of the cove). Tie up or drop the hook, then settle on back. Great St. James provides excellent wind protection, but the breezes over the saddle keep the place cool and bug free.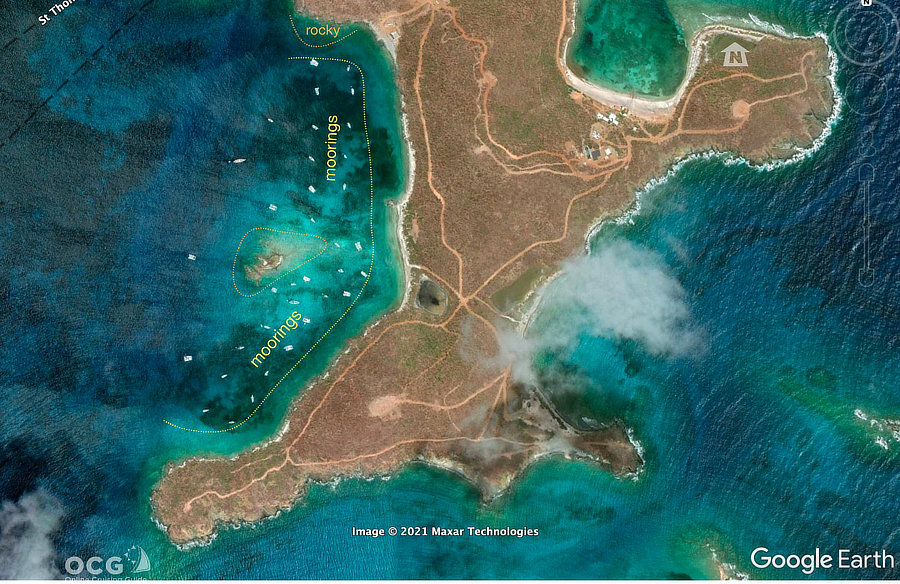 Ashore:
Nothing really, although much (all?) of Great St. James is currently in a state of limbo, as it was most recently owned by the notorious Jeffrey Epstein, who purchased it for around 22 million US dollars in 2016. There were numerous conflicts with the USVI DPNR over land use and development ideas. It's possible it's for sale again. Check for a sign and make a bid… In the meantime, enjoy the beach!
Don't Miss:
Enjoy a truly unique experience by ordering delicious pizza from a floating sailboat/restaurant. A couple converted their boat specifically for the purpose, and have been delighting sailors at Christmas Cove for a few years now, during the season (typically starting in December). If you're looking for it, there is good snorkeling off the southern point at The Stragglers, and lots of people dive at Cow and Calf in calm conditions.