One of our all-time favorites, Waterlemon Cay (no, it's really not Watermelon) continues to delight every time we stop (which is EVERY time we're in the neighborhood). Snorkeling, sea turtles, excellent swimming, hiking trails ashore, and NO development. What else could you want?
Approach:
Waterlemon Cay is the closest USVI anchorage to the west end of Tortola, in the narrows. DO NOT CROSS BETWEEN THE EAST SIDE OF WATERLEMON CAY AND ST. JOHN. This is a shallow swimming/snorkeling area with sea turtles and people everywhere. The only approach is around the western end of Waterlemon Cay, then up into the bay proper.
Anchoring/Mooring:
It's easy to pick up one of the 19 moorings available, and the breezes are refreshing. In order to preserve the sea floor habitat, there is no anchoring. The method for collecting the dues for the moorings is now worked out, with a pay station ashore beneath the Annanberg Sugar Mill ruins. There is no anchoring in the bay, as they are protecting the fragile seabed and coral areas.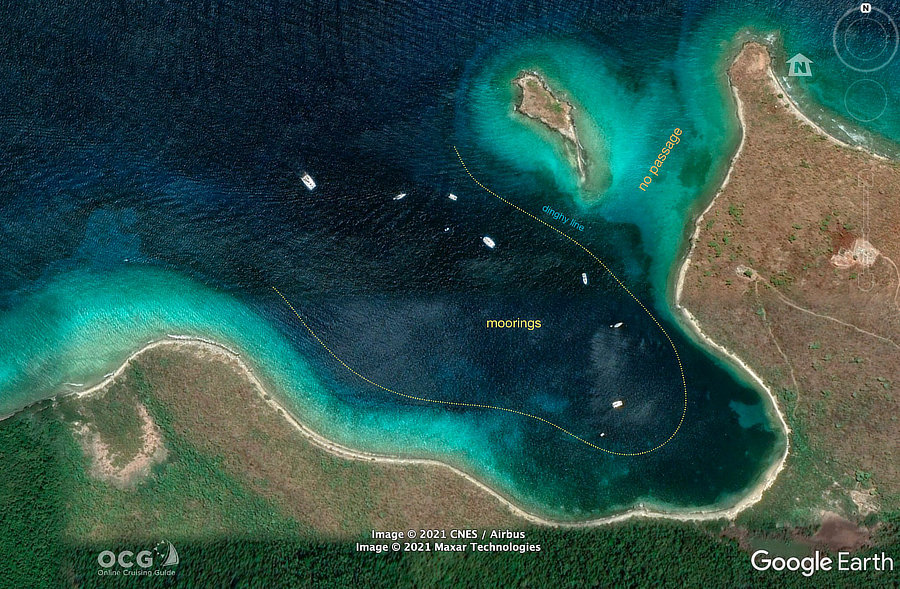 Ashore:
There are a number of hiking options from this location, including a short trail to the top of the hill overlooking the bay, where the ruins of an old mill (and school?) sit with commanding views of the narrows, Tortola, everything. Keep an eye out for wild donkeys on the trails and give them room. They can be kind of ornery. When you go over to the pay station, take a half hour to stroll up to the Annanberg ruins and take a self-guided tour. These are fascintating buildings and well-kept. Imagine what it must have been like boiling huge copper kettles of raw sugar water indoors on St. John in the summer…. yow.
Don't Miss:
Snorkeling around Waterlemon Cay. This has historically been one of our favorite snorkel stops of all time, and seems to be recovering well from a damaging storm a few years ago. The south side of the cay is still marginal, but the west end and north side are quite excellent. Some of the best snorkeling is on the northeast end of the channel off the point of the mainland. Look for sea turtles and rays in the grassy areas in between.