Sandy Cay is the little pearl dangling from Jost Van Dyke's eastern ear. And what a jewel it is. Waves curl onto it's perfectly shaped, deep sugar sand beach in an endless caress. Not a building in sight. Great snorkeling. Your private eden.
Approach:
Sandy Cay is clearly visible from anywhere south of Jost Van Dyke and from the north or west of Tortola. Approach is straightforward with no real hazards, except other boats in the high season.
Anchoring/Mooring:
All anchoring (there are no moorings) is done off the southwest side of this tiny place. Depth drops off rather quickly, but the sand is good holding. Watch out for the rocky areas if you creep too far north. This area generally has a strong current, and can be subject to swell, so keep an eye on all swimmers.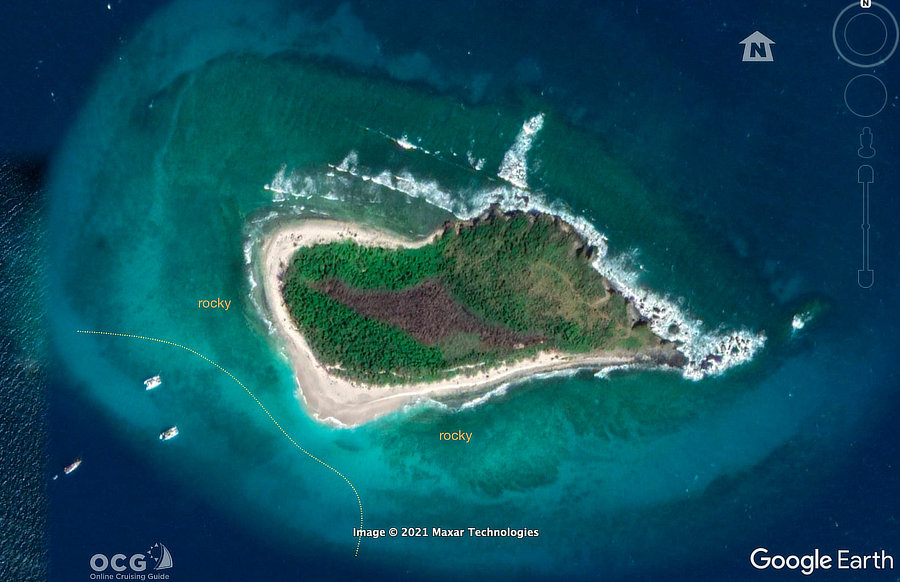 Ashore:
You will find a whole lot of nothing. A few trails to wander over the landscape of palm gardens and other greenery, and quite possibly one of the most photogenic beaches in the Virgin Islands. If you get here early enough, you can have the whole place to yourself for a few hours. And what magic that can be…
Don't Miss:
Standing on that perfect shore, in the softest, deepest sand you've felt, while waves curl in perfect forms to lap at your knees. the light and color of the waves can set you into an otherworldly, trance-like state. Enjoy.