A BVI classic anchorage ranking right up there with the best of them. Room for a limited number of boats, with limited but charming businesses along the beach. Swim in to the infamous Soggy Dollar or simply swing on the hook and take in the scenery.
Approach:
White Bay is the anchorage furthest west on the south side of Jost. Approach is pretty straightforward with the placement of channel bouys at both entrances. These are fairly narrow cuts through the reef, and should be approached with caution and good visibility, Once inside the bay, keep an eye open for lone coral heads, especially off the rocky section of beach marking the middle of the bay.
Anchoring/Mooring:
8-10 moorings are in place, paid for at Ivan's Bar (for eastern set) or the Soggy Dollar (the western set) respectively. Cost is $25 per night. There is often a slight swell that wraps around the eastern point and into the anchorage. For this reason we prefer the easternmost bouy, as it is more protected by the reef. If this is taken, some of the more protected western bouys might be your next best bet.
If all bouys are taken, you may anchor clear of the moorings at your discretion in 10-15 feet of water and mostly soft sand. This is a clear bay, and easy to spot your anchor while snorkeling, or right from your deck.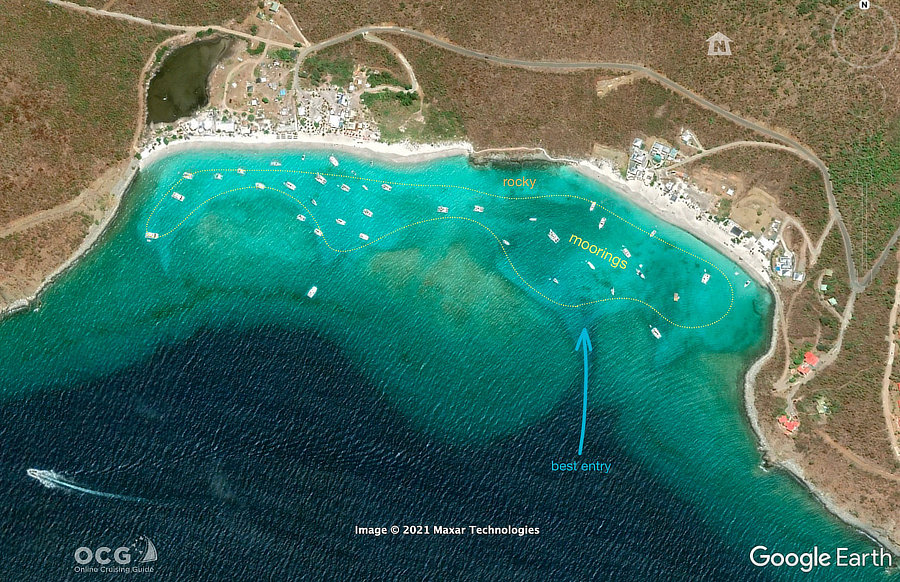 Ashore:
Dinghying in can be sketchy due to the prevalence of a little surf, but if you time it right you'll be fine. Our preference is the funky Ivan's No Stress Bar located in the middle of the eastern beach. Seashell-covered walls, open atmosphere, and a cash jar on the bar to pay for drinks makes this place truly stress-free. Not sure if they have food- we've never eaten there. Another equally fun joint would be the Soggy Dollar Bar on the western beach, semi-attached to the Sandcastle resort. This is the somewhat contested home of the notorious "Painkiller" cocktail, and the bar gets it's name from sailors swimming in to partake, paying with wet currency.
Don't Miss:
If Seddy is in at his One Love bar at the far western end of the beach, you must coax him into a magic show. This guy is unreal. Having seen many slight-of-hand tricks and magic over the years, we've never been this stumped by a perfomer. I literally fell over off my bar stool. Equal parts entertainment and sheer dumbfoundedness. Just like the fine cocktails you can find all along the beach here.