Foxy's alone is reason enough to stray in here, but it's also a great, laid back place to clear customs. Not the best of holding though, so don't get too lazy.
Approach:
Great Harbour sits in just about the middle of the south coast of Jost Van Dyke, but can be tricky to pick out until you get closer. Look for large headlands on either side of the bay entrance, and the telltale road cuts heading down into the settlement. Soon numerous roofs will be visible, most notably the centrally located bright red roof of the customs house, assuming it's still red after a recent facelift…
Entering the bay is straightforward enough, with nav aids making a channel on the western side (these are really for traffic control and to designate the anchoring/mooring area, not for navigational hazards). Once inside the last buoy you can break to the east to anchor.
Anchoring/Mooring:
There are numerous mooring balls in the harbour, although almost all are private or at least poorly marked. This is changing, however, so take a look if something new seems available. Otherwise, anchoring is tricky with shallow sand over hard coral/rock slabs. It is very common to drag here if the breeze is up, so take your time and get it right. We seem to have decent luck in the sandy area in the southeast area of the bay behind the shoals that extend from the steep headlands. No matter what, it's a good idea to leave some able-bodied crew behind when going ashore to be ready for a dragging situation.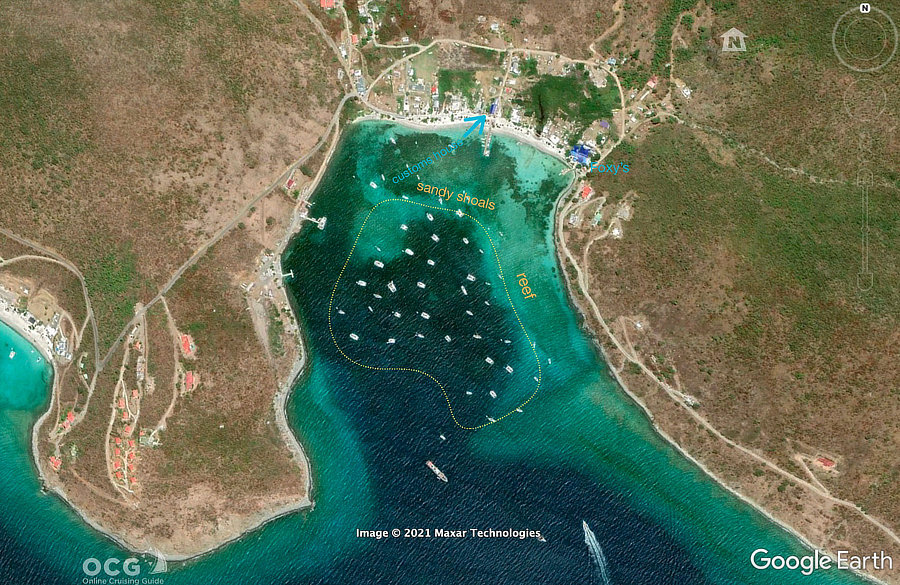 Ashore:
Dinghying in is easy enough, with a clear channel dredged out to the Customs Dock in the center of the beach. The stately red-roofed building beyond is the customs house. Dinghying along the shore is possible (on the inshore side of the shoals), but go slow and keep an eye on depth.
Don't Miss:
Foxy's, certainly one of the most infamous beach bars in the world, is located in the north east corner of the harbor with its own dock. The immense popularity of a bar in such a remote corner of the sailing world, where the holding is poor and the direct approach is studded with shoals, is a clear testament to the great fun that can be had at this place. If you haven't seen Foxy's t-shirts on salty sailors at anchorages and marinas around the world, you haven't been paying attention. Here's the chance to get one for yourself and create some great memories (although probably foggy) with your crew.