Probably the best-known anchorage in the Virgin Islands, Cane Garden Bay is an aesthetic beauty, chock-full of places to quench your thirst and provide some adventure. Though it has certainly changed a bit from its more humble and funky beginnings, there is still plenty here worth seeing.
Approach:
Just south of the Northwest corner of Tortola, most people end up approaching Cane Garden Bay from the perfect sandy shore of Sandy Cay or from Jost Van Dyke, both to the west. There is a high headland on the north side of the bay, and your approach will lead you close in to this rocky area. Look for a large white house in a prominent position high above the cliffs to confirm your location and then spot the nav buoys at the entrance to this kidney-shaped bay.
Anchoring/Mooring:
The bay is choked with mooring buoys, making it easier for the numerous boats to find safe holding and minimizing midnight hassles when the wind whips through (rare). If you are looking for a buoy for the night, we would suggest getting into the bay no later than 1500, as this popular anchorage can fill up quickly. Moorings are paid for ashore, or a launch will come out and collect. We suggest getting a receipt from the pilot to minimize confusion. The number of buoys also makes it a bit difficult to find room to anchor except in the south and southwest areas of the bay, backed against the reef/shoal areas. The sand is good holding, and if you have a shallow draft vessel, head a bit further south in the bay to find some space to yourselves.
Ashore:
While Stanley's classic tire swing from the tree is no longer swinging (the palm collapsed some years ago), there is still plenty to see and do in Cane Garden Bay. Stroll along the sugar sand beach to any of the numerous beach bars and fine restaurants that have set up shop here, including Myett's and Quito's Gazebo. Up the stairs from the dinghy dock are some other shops along the road for provisioning, ice, and sundries (Bobby's). There is a Rum Distillery tour at Callwood's as well, something not to be missed by a true connoisseur.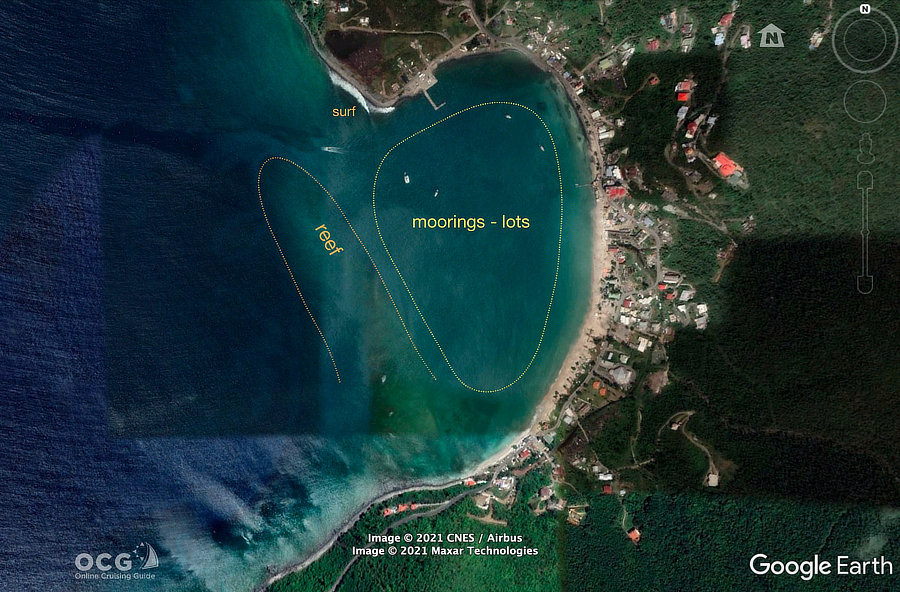 Don't Miss:
Sunset from one of the beach bars. Cane Garden Bay has an almost perfect line of sight most of the year to see the giant orange orb slip silently into the sea, framed by Jost to the north and St. Thomas to the south. Sipping on a cocktail with your toes in the sand, this sight is hard to beat. You might even experience your first "green flash"!