Santa Rosalia is the gateway to the northern Sea of Cortez, and your last stop in relative civilization before heading into the boonies. Enjoy cell service, easy provisioning, a few hardware stores and multiple restaurant choices while you have them. You'll be without nearly any of these things once you pass Tres Virgenes going north. Note that mid summer to early fall this place can get really hot. They don't call it Santa Roast-alia for nothing. If you don't have air conditioning on the boat, probably best to plan a very short stopover during this timeframe.
Approach:
Open from any reasonable angle. Don't hug the shore if coming from south, as rocky shoals extend from the river mouth and headland (Punta Santa Agueda) about 1.5 miles SE of the marina entrance. When entering the dársena, take care to give the right/NE (red) side room, as a section of the wall crumbled into the channel some time ago and poses a hazard to keelboats.
Anchoring:
There is some periodic cargo traffic, a ferry to/from Guaymas, and lots of pangas in and out of here, so choose your spot carefully to stay out of the way of all of that. Most drop in the middle of the northern section of the anchorage in 15-25 feet over a funky sand and sometimes gooey bottom. There have been reports of junk on the bottom including cars and pieces of the destroyed marina, so it's a good place to use a trip line on your hook. There is room for 3-4 boats if you coordinate. There is a concrete slab marked at approximately 27° 20.327 N, 112° 15.799 W that is only visible at low tide, and must be avoided. Use of the dock for dinghy landing can be coordinated with the marina office. Or you might be able to share some beach space with pangas just north of the ferry dock.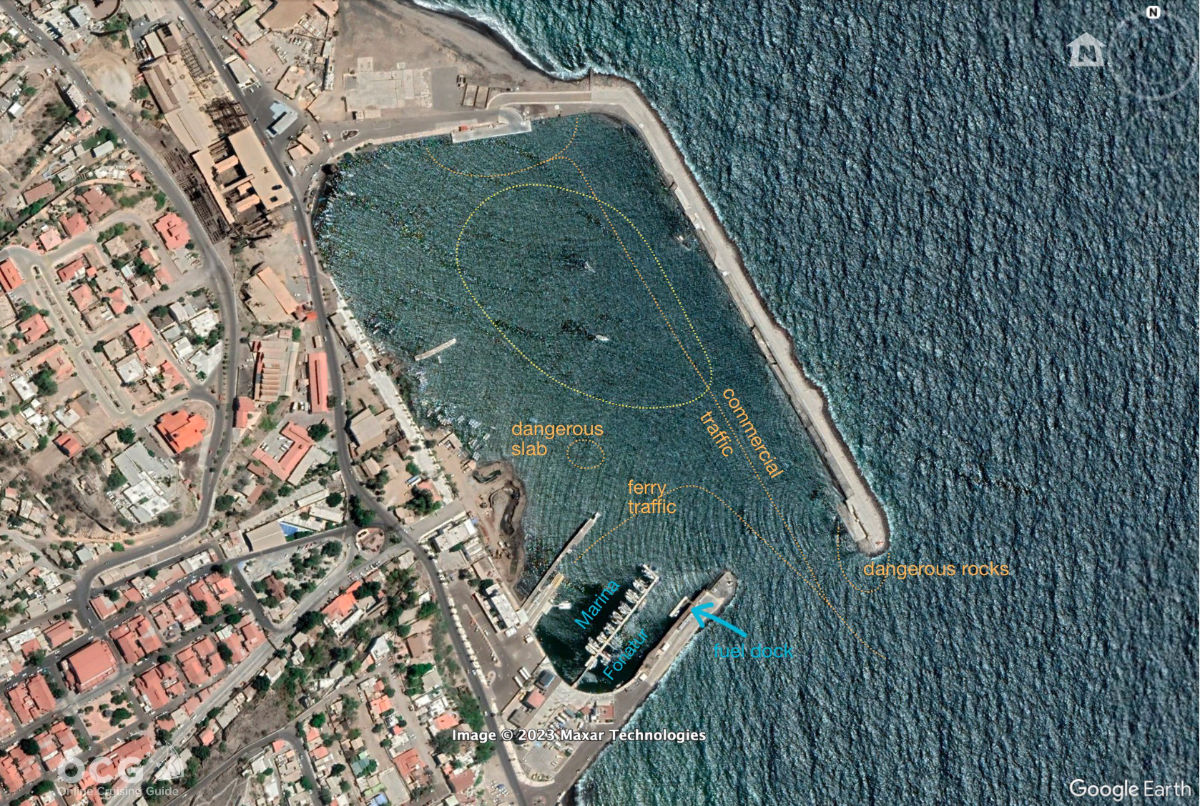 Click gallery above title for more images.
Ashore:
This is a full-service non-tourist town with a dusty, hard edge. Most of the key places are within walking distance of the marina area, either up street grid that lines the bottom of the main valley going west, or on the shoulder to the north. A great place for walking exploration if it's not too hot.
Shore access when anchored out can be tricky, as the Fonatur Marina security dissuades cruisers from accessing their dock, and the rest of the waterfront facilities are quite rough, in a state of disrepair, or crammed with working pangas. Make friends with the fishermen and ask them the best place to pull up. We've had luck landing on a sandy bank near the middle of the west side of the dársena, but Hurricane Kay has rearranged this area and lots of work is being done.
Don't Miss:
There is a very informative and well-executed museum on the hill above the marina to the NW. It's dedicated to town history, in particular its ties to the french mining company that basically founded and developed Santa Rosalia. Definitely worth a stop on the front end of your stay, as it will give you great context for the buildings and places you'll see as you explore later.