Half way up the west coast of Isla Coronado (Smith) is a large chunk of a rock island (Isla Mitlan) that forms an open wedge of an anchorage to the NE, between this island and the main bulk of Isla Coronado. It's visually stunning, has fantastic snorkeling along the channel walls and rocky mounts that dot this little oasis. NOTE: Mitlan has a well-deserved reputation for bugs, including bees in the dry season and jejenes (no-see-ums) if the breeze is down. You've been warned. But the fact that this place still ranks high on many cruiser's lists says a lot.
Approach
DO NOT enter the channel south of Isla Mitlan. There are rocky shoals scattered all through this channel (see aerial courtesy of s/v Perspective). Enter instead by rounding the northern point of the rock island and find a spot in the mostly sand area to the N/NE. If you can't see the bottom clearly, don't venture too far inside (south), as the scattered rocky shoals (some of them quite shallow) become more prevalent.
Anchoring
Holding is good in soft sand, but first you have to find it. As noted above, if visibility is good, you have all kinds of possibilities. Almost any dark area mid-channel is rocky. If visibility isn't so good, stay toward the north end. Easy enough. Drop in 20-30 feet.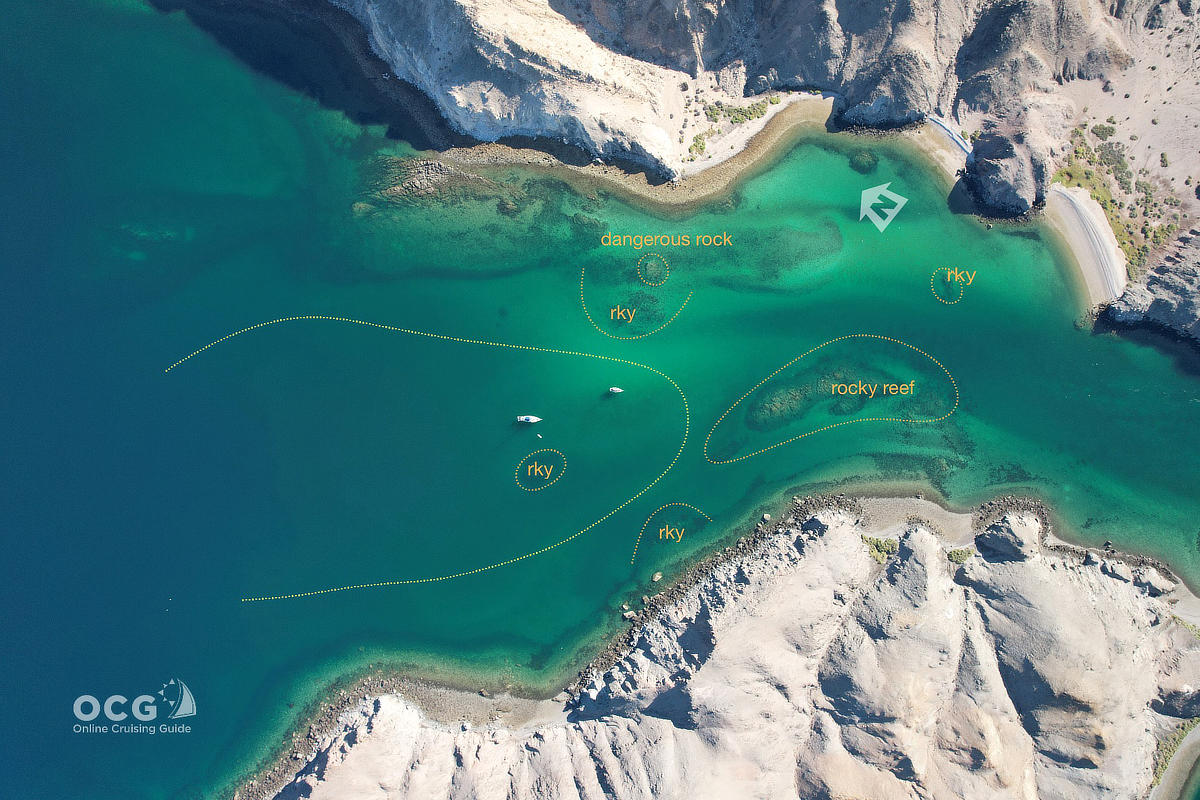 Ashore
There are a few pebble beaches and a trail/scramble up the side of the volcano that is the north end of Isla Coronado, if you're feeling sporty.
Don't Miss
Snorkel time! The cliff walls here extend below the surface, and are often crawling with a who's who of reef and predator fishes. Particularly good for grouper. You can make a lovely afternoon of snorkeling right from your boat, down one side of the channel and back on the other. And maybe end up with something for the grill while you're at it.