La Ventana is a funky and beautiful island, the largest island close to BdLA village. It's got a somewhat lunar landscape, with minimal vegetation and a grey, clay-based (?) soil. There are three more small islands on its west side, and a scattered reef off the SE side off the corner where the namesake "window" arch is (do not approach from this side). On the northwest side is a well-protected anchorage with room for three boats in settled weather, and only one if a real blow, as the anchorage is relatively deep and doesn't allow a ton of swinging room. We sat out Hurricane Kay by ourselves here in 2022, and it worked out great in terms of protection (it's really only open to about 20 degrees directly west), although being so close to the beach we got sandy water spray all over the boat, resulting in sand deposits in nooks and crannies and clutches, etc. So much for the post-storm power washed super clean boat. Dang.
Approach:
You can approach the anchorage from south through the gap between Ventana and Isla Cerraja (Lock), in 15-30 feet mid-channel. You can also come in on the north side of Isla Llave (Key), between it and Isla Flecha (Arrow). Do not try to pass between Llave and Cerraja in anything but the dinghy, unless you're feeling very sporty. Approaching from the north, you can stay toward the Baja side (west) past Isla Jorobado and Isla Flecha, or come closer to Pata y Bota and enter from the east side of Flecha. There is only one hazard that you can't often see, and that's the pinnacle rock just to the east of Jorobado, lining up with the entrance to Pata y Bota. Bottom line: in decent water clarity let your eyes guide you, and nearly any approach will work if you can steer to avoid anything that is bright green or brown.
Anchoring:
This is a roundish, bowl of an anchorage, with the shallowest depths up toward the SE beach head. The only hazardous shallow area is in the extreme SE corner, where it drops to 6-8 feet on a mid-low tide. Most will anchor about third of the way back from the beach in 30-35 feet. The holding is excellent in firm sand.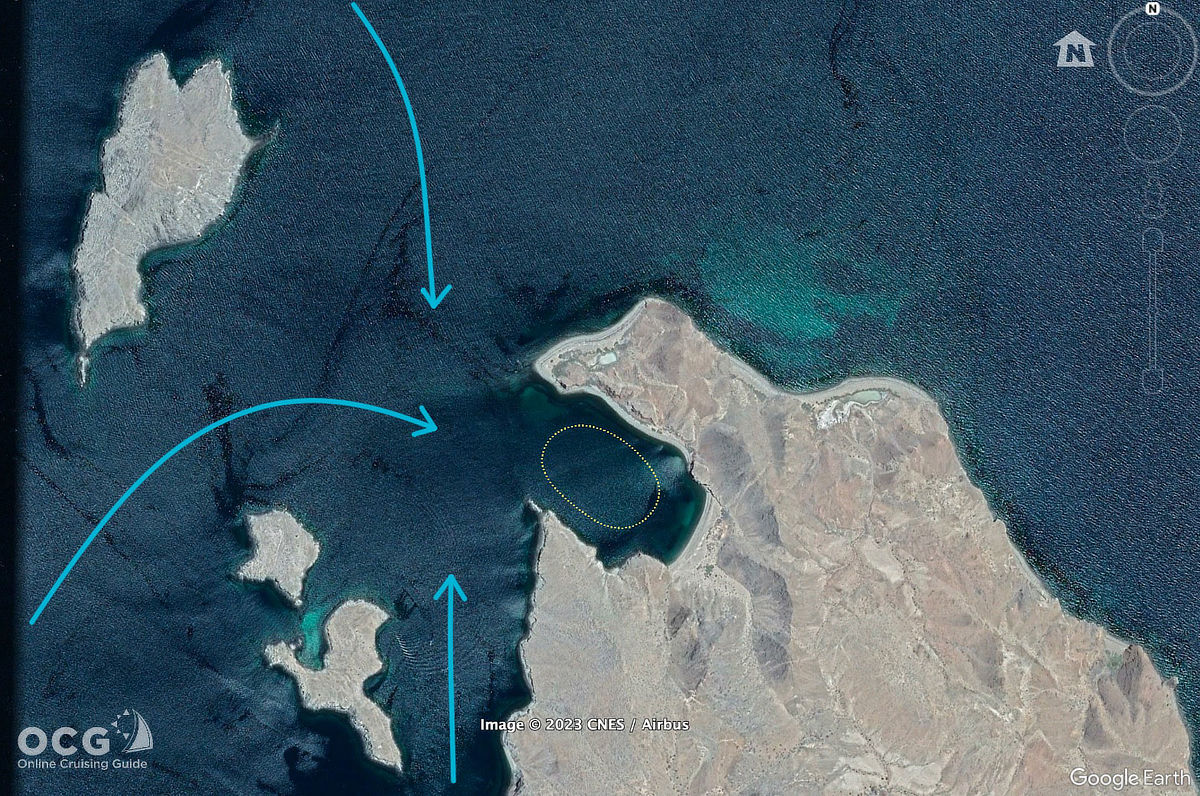 Click gallery above title for more images
Ashore:
There is some fun hiking on this island, with a higher valley area featuring some bizarre rock formations and landscapes. Hard to describe, but worth a morning hike. You can traverse the entire island over to the SE corner, but I don't remember being able to see the "window."
Don't Miss:
Dinghy out to Llave and Cerraja, anchor the dinghy between them, and do a long-ish distance swim/snorkel figure eight around both islands. Mind the current, but it's a fun little jaunt with lots to see, and some great exercise, too.