Playa Bonanza is indeed a bonanza of gorgeous water joined to perfect white sand in an arc of nearly two miles. While there are no facilities, it's a welcome stop for sailors coming to and from La Paz, or those looking for a break from westerly or northerly winds. You will typically have this spot to yourself, and lazy jaunts ashore are a welcome distraction.
Approach:
If approaching from SE, all is open and easy. From the SW, via San Lorenzo Channel, great care must be taken to avoid shoals both north and south of the pinch point in that channel, typically marked by a green on the south side, and less often by a red on the north side. After cleaning this, take a wide, lazy arc into the heart of the bay. You'll know you're in the right place when you're looking directly at a large hill on shore that looks just like the back of a whale as it surfaces. How it's not named "Whale Back" is a mystery for the ages.
Anchoring/Mooring:
While offering protection from westerly waves, the west wind still rips through the valleys and around the southern point. Anchor anywhere you like in this weather, as the holding is solid. Northers can send some unwelcome rollers into the bay. Best to move north and tuck into NW corner of the bay as much as possible in this situation, however NOTE THAT THE FAR NORTH PORTION OF THE BAY IS A PROTECTED AREA WHERE ANCHORING IS NOT ALLOWED. Anchoring is in good holding sand, 12-25 feet everywhere along the bay except for the farthest ends.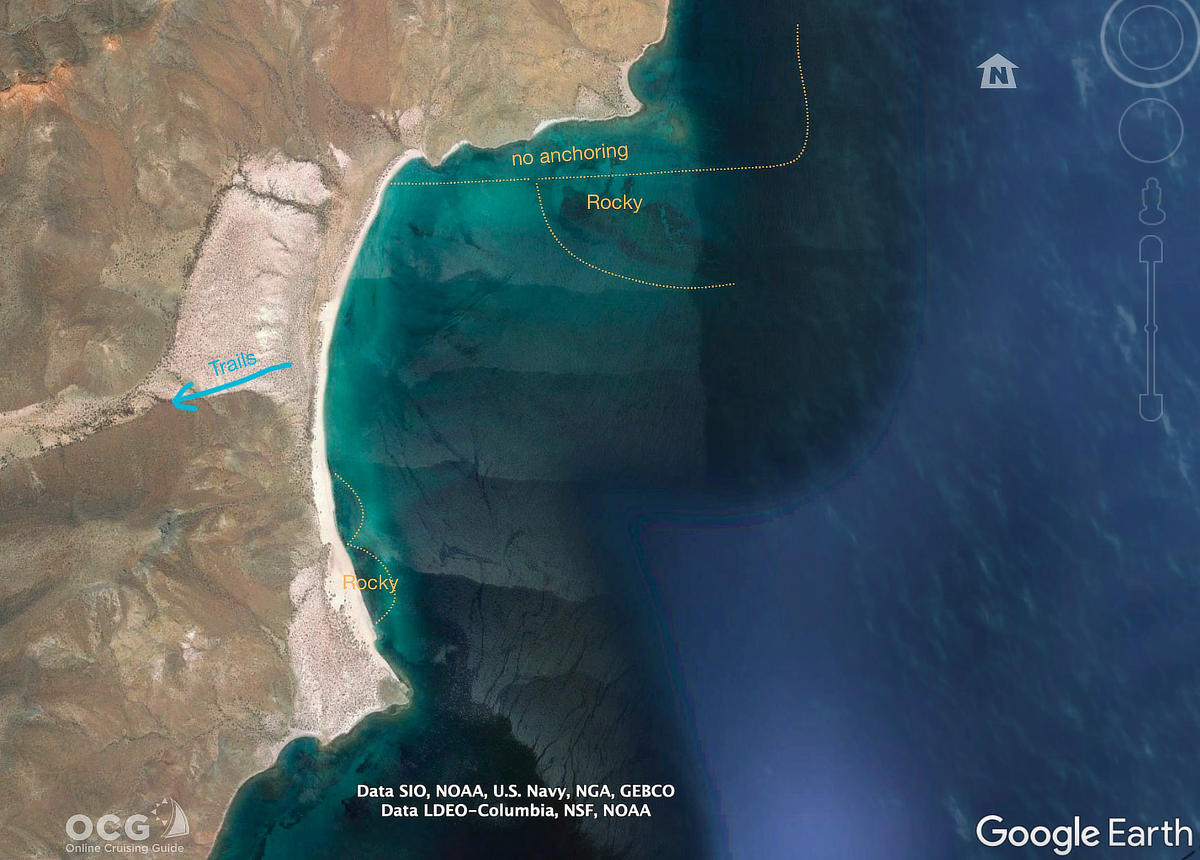 Click gallery above title for more images.
Ashore:
There's a braided trail across the island to Bahia San Gabriel, excellent views from the small peak at the southern edge of the beach (which sometimes affords a decent cell signal). Other trails can be found, and there is decent snorkeling near the northern point(?)
Don't Miss:
Nearly in the middle of the beach, the most perfect shade tree you can imagine sits waiting for you to bring a cooler and chair to sit and soak it all in. Don't leave this place without an afternoon spent in it's glorious protection.