This tiny, jungle-y village is one of our favorite stops along this coast. Often shunned by cruisers for what is considered a rolly anchorage, it's a charming and quiet stop in settled weather, or with a stern anchor out. A postcard-worthy curve of perfect sand beach, a small selection of beachside palapa restaurants and the village scattered up the hillside are ridiculously photogenic.
Approach:
Wide open from north or south, just make sure to give the obvious headland on the north side room as you come around. When approaching from the north, the village can be hard to make out until you're nearly around the headland.
Anchoring/Mooring:
There are a smattering of moorings in the bay, which are all private. The area most protected from predominant NW swell is the northern part of the bay tucked between the moorings and the beach, in about 25 feet of water. Make sure to give yourself clearance on the moorings for an offshore breeze at night, and you stay out of the surf zone (obviously). There's plenty of room further down the beach, but the roll will increase as you move that direction.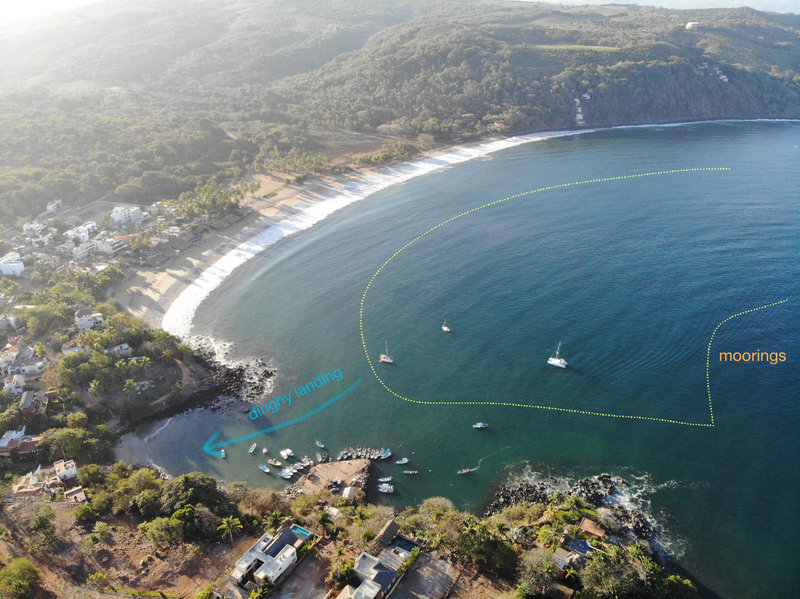 Click gallery above the title for more images.
Ashore:
Getting ashore is quite easy, with the small cove to the north harboring a small sand beach, right below the Port Captain's office (these guys have the MOST CUSH job in the Port Captain circuit, for sure). There's a path along the shore to the main beach and palapas, or you can walk up the cobblestone street and into the heart of the village. There are half a dozen small markets with limited produce, two laundries, and a craft beer joint (La Onda), open only Fr-Sat (Fall 2019).
Don't Miss:
If you're southbound, this might be the first place you get a chance to shelter in the shade of a beach palapa with a cold cerveza in your hand and your toes in the sand, watching the world go by, slowly. You'll be humming that Zac Brown Band song all day.