This is the other of the two primary anchorages on the north shore of Isla Carmen, and it shares the same feature: in the Spring/Summer, the dominant SE winds funnel through the Salinas flats and rocket through these anchorages. It's offshore, with no fetch, but the breeze can be, shall we say, impressive. But V-Cove is visually stunning, somewhat technical anchoring (it's a narrow wedge of space) with high walls and pretty good snorkeling. Throw in some truly impressive sea caves and a very welcoming beach, and you can see why a number of cruisers keep this place very near the top of their list of favorites.
Approach:
Wide open from any reasonable angle. Not a good idea to hug the shore here because of the craggy, rocky nature of the points here, but we have never seen or heard of a rock further than 100 meters from shore. Note that when coming from the south and around Punta Lobob (NE corner of Isla Carmen) in a decent SE breeze, you can expect the breeze to make a MAJOR shift when rounding the point, as it will fill in from the gaps along the north shore (V-Cove being one of them).
Anchoring:
There is room for a half dozen boats here in settled conditions, with some coordination. Otherwise 3-4 is probably max. You will find soft sand right up the middle of the wedge of space, with some rocky slab bottom in the eastern 1/3 of the wedge. It's 40 feet or so at the mouth of the cove, and you can anchor in about 15 feet at the narrows as you approach the beach. We usually end up in 25 – 30 feet, centered between the two walls. Expect your stern to become friendly with the rock wall on the West side, so it's best to favor the East when dropping the hook.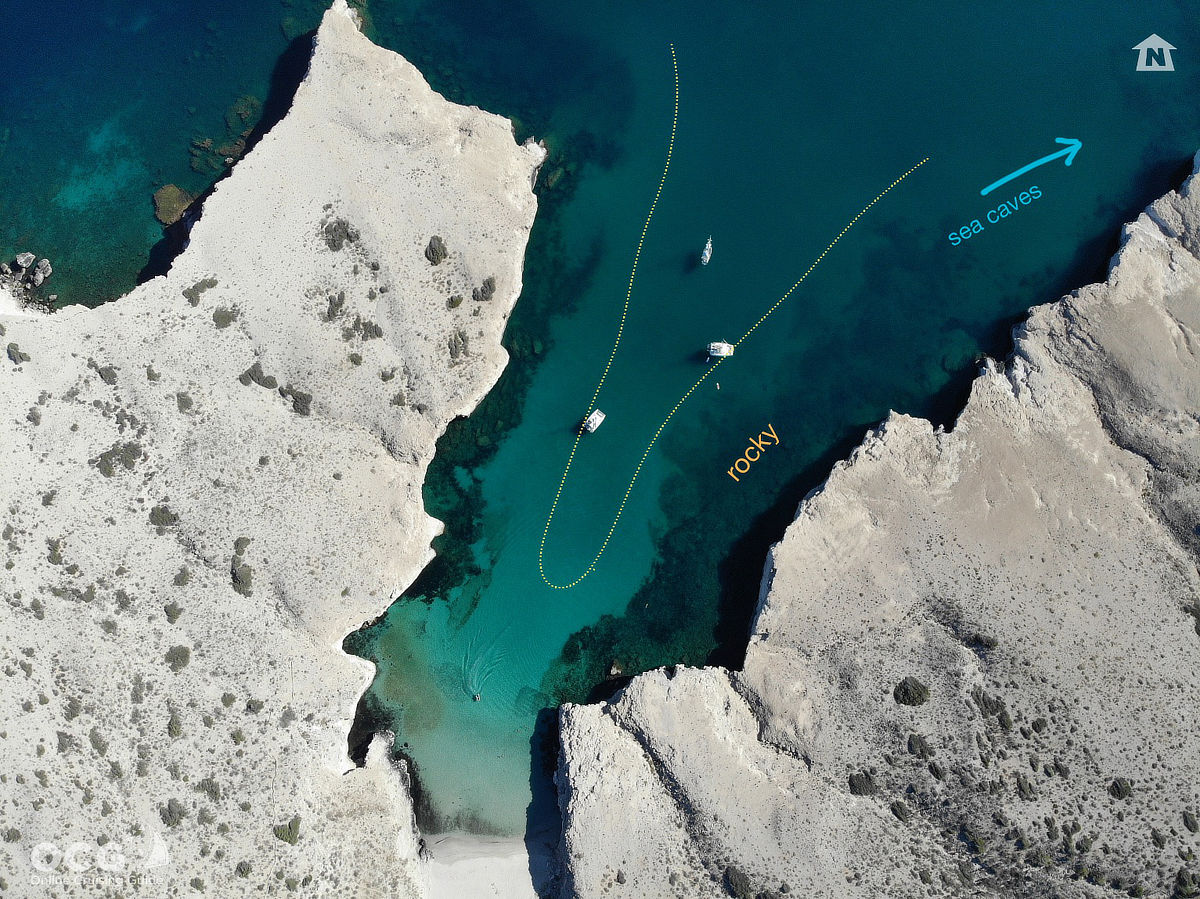 Click gallery above title for more images
Ashore:
It's a spectacular beach with a tussock-covered dune behind it. Not large, but visually stunning and great for selfies, beach parties, etc. Pangas will be in and out most days bringing tourists in to do just that.
Don't Miss:
There are a number of sea caves lining the east wall, in particular a couple of huge cavernous ones just outside the main cove that are spectacular to paddle into on an SUP, or take the dinghy in settled weather. Fishermen will sometimes slip in there in a panga to sleep away the midday hours in cool shade.