Not to be confused with the actual commercial port of the same name, the anchorage of Playa Pichilingue sits immediately north of the port. Most cruisers blow right by Pichiligue without giving it a look, tempted by more attractive anchorages further north, or scooting into La Paz for the sights and sounds and tastes of town. Too bad. Playa Pichilingue is a dream in north wind, offers good holding, a selection of restaurants ashore and bus/taxi access into La Paz if desired.
Approach:
From the south it's a piece of cake, just needing to avoid commercial traffic and clear the heel of Isla San Juan that makes up the outer breakwater for the port. From the north one must clear Isla Gaviota (aka Lobos) to the west, although it is deep-to. The bay bottom has significant relief, with shoal/bar areas on the southern side, and deeper water on the north.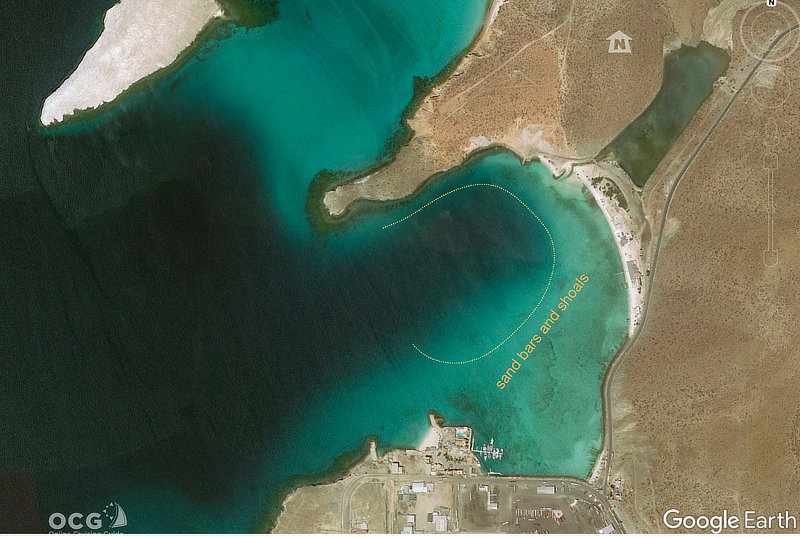 Click gallery images above listing title for more photos.
Anchoring/Mooring:
Choose your preferred depth (10-20 feet) and drop the hook in good holding sand.
Ashore:
There is a selection of palapa restaurants, nice beach area popular for swimming, and a small marina and dive center on the south end of the bay. Access to the road for taxi/bus is easy.
Don't Miss:
Hanging out in Pichilingue during a proper norther. With the point + outlying island, protection is quite excellent, and a far cry from the hobby horsing and wave slap you would be feeling in La Paz.