There are two anchorages on the SW tip of Monserrat, which provide N to E protection and some spectacular snorkeling right from your boat. In the right weather these spots can provide the perfect break on your way north or south, or offer a sweet getaway from the more popular anchorages along this coast. Note that this area is known for night time westerlies during much of the year, which can make these anchorages a dangerous lee shore. Check your forecasts carefully and have a plan.
Approach:
The west shore of Monserrat is mostly steep-to, with a sprinkle of rocks off most of the points, but nothing too dramatic. Approach to these anchorages will likely be more high-angle anyway, leaving you to manage the reefy points in the local area only. And they are numerous, in particular off the two points that create these two anchorages, north and south. When making final approach into the bay, proceed slowly with a spotter at the bow. If water visibility is compromised, we would recommend first time visitors postpone and head for Yellowstone or Agua Verde if possible. The two bays here offer nice spots with decent holding, but you will be within a stone's throw of rocky bands and reefs.
NOTE: As of summer 2020, Navionics still shows landmass islets off this shore. Our own investigation shows no such islets, or even rock piles to correspond to their locations on the chart. Best to give them room, but don't expect to mark them or use them for positioning.
Anchoring:
Being able to spot sand vs rock is key to successful anchoring here. Either bay offers good holding sand in 15-25 feet, although in some spots the sand can be thin over slab rock. Avoid the rocky areas, which are more than just strewn rocks on the bottom, but instead tall reef ridges loaded with fish and rode-snagging nasties. The north bay has rock/reef projecting into the bay that must be marked on entering, and the south bay has it's northern half nearly completely choked with rocks and reef – room for one boat only. The southern half of the south bay (nearest the light tower) gives the greatest room, with space for 2-3 boats in settled weather.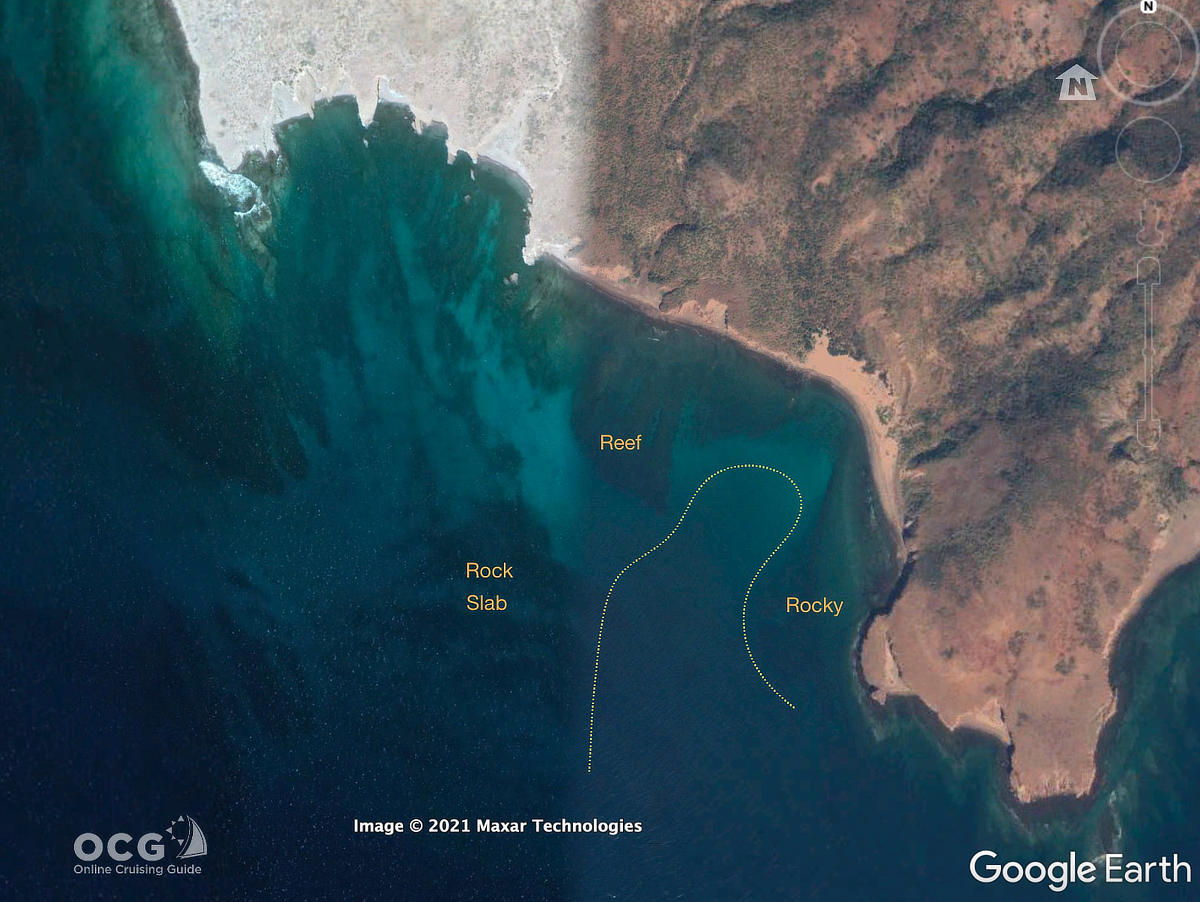 Click gallery above the title for more images.
Ashore:
The small beach is quite pretty, although rocky, and for the truly intrepid there is the prospect of some bushwhacking "hiking" into the hills, although one should expect to do battle with cacti and loose scree slopes. But this probably isn't why you came here.
Don't Miss:
Snorkeling in this area is truly spectacular when the visibility is good. We've only scratched the surface, but the variety of fish in large numbers, visible so close to your anchored boat, is a treat. Enjoy.