Agua Verde is one of those places that looks good from any angle. North, south, from the water, from the hills, from a satellite. This place inspires people to put this one on their bucket list, and they're not disappointed on arrival. Aqua Verde has a funky little village, spectacular beaches, three different anchoring areas with different protection, hiking, petroglyphs, snorkeling and some of the best fish tacos you'll find on any beach in Mexico. You'll fall asleep to the quiet tinkling of goat bells. What more is there?
Approach:
Agua Verde sits on the north side of a prominent point (San Marte) jutting into the Sea of Cortez from the west. Rounding this point requires care, as there are extensive reefs around the visible islets. This is no place to cut the corner if it's your first time, or visibility is at all compromised. Besides this, and the imposing presence of Sentinel Rock marking the entrance to Agua Verde, it's quite straightforward. The next bit is trying to choose where to anchor.
Anchoring:
There are three different anchoring spots here: Northwest/Classic, off the village, and South. Most head to the Northwest anchorage, as this provides to best protection regardless of wind direction, and is almost ridiculously photogenic. It is, however a bowl shaped bottom with one big prominent, rode-snagging rock on the NE side, so make sure to mark its location before dropping. Holding is good, but your depth may vary substantially depending on where in the bowl you find yourself. It can also be rather crowded.
Off the village beach is another excellent anchorage in settled weather, with easy access to village sites and provisioning, as well as the afore mentioned fish tacos on the beach. Drop in sand and shell in BLANK depth. (please comment with known depth at this location)
The south anchorage is a sweet one too, and maybe our favorite. It's shallow, but excellent holding sand, with a bit more room to swing and great access to snorkeling the points on either side.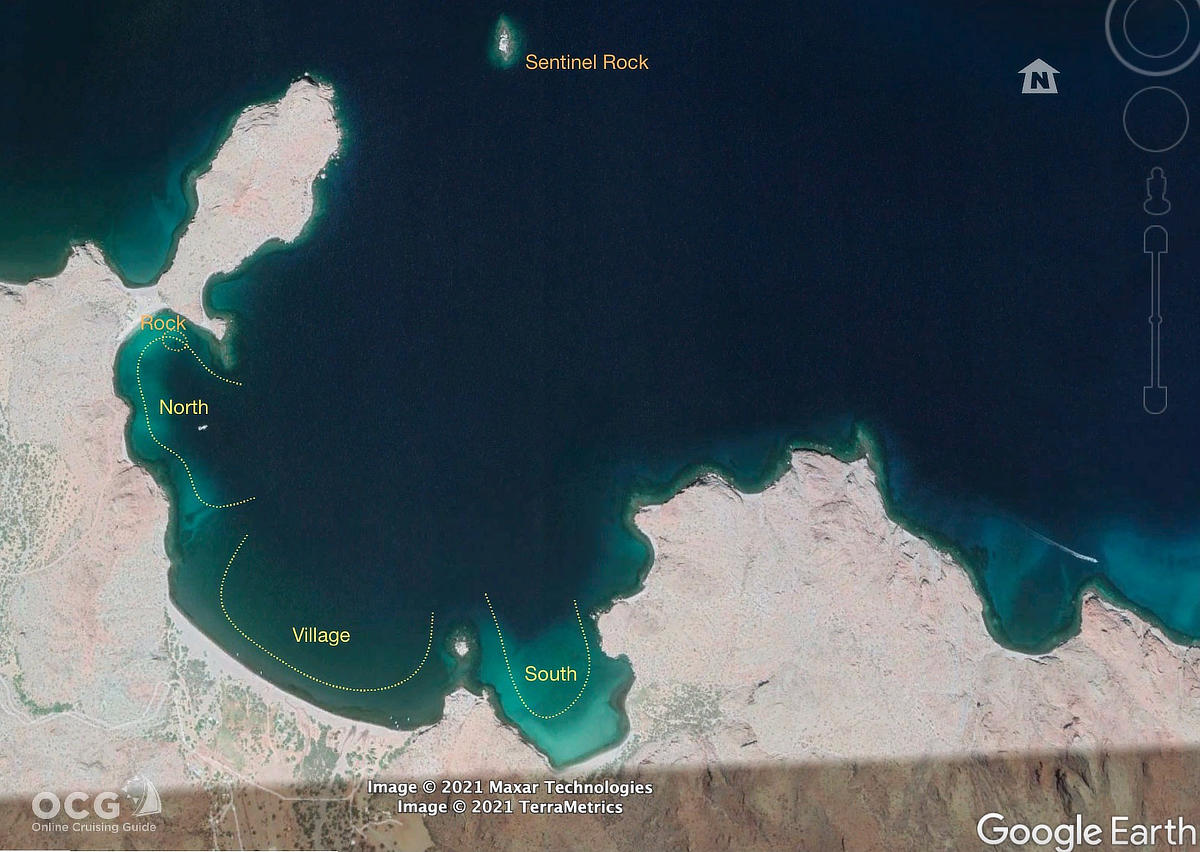 Click gallery above title for more images.
Ashore:
There are ribbons of hiking and goat trails (goats are ever present here), as well as a two-track road from the beach spit on the north, along the hills and into the village. There you'll find a smattering of buildings, two stores, a goat dairy, church, small school, etc. This village clearly grew organically before the introduction of cars, making for a fun time finding where you are going, and what might be through that next thicket of brush. Explore. The people are friendly if reserved, and will make good use of your dollars spent in this tiny hamlet.
Also, to the NW, you will find a short hiking trail that wends toward the beach and then back up into the hills, ending at an elevated cave with red petroglyph paintings on the walls. Fascinating, and well worth the moderate hike.
Don't Miss:
Fish tacos on the beach! It's a baja classic, and this operation on the beach, run by a collective of Agua Verde women, offers an excellent version with all the fixings. Support the women and their children, and enjoy an authentic baja meal on the sand.