You'll likely find Loreto just as charming as we always have. It's sleepy, but big enough to have pretty much every base covered. There are upscale options for dining and lodging, and a far number more geared toward locals and Mexican tourists. Provisioning is good, for the Baja, at three major markets and a smattering of specialty stores. There are fishing gear shops everywhere, and limited hardware offerings. All of it is walking distance. There is a small cruise ship industry here, so it's certainly best to avoid if one is anchored off the beach here. Otherwise, come on in, stroll around, get stocked up for Sea of Cortez adventuring, and fall in love with this Puebla Magica. Some particular favorite times are Dia de Los Muertos and the Chocolata Clam Festival at the beginning of June.
Approach:
Approach is wide open from any reasonable angle, but if coming from south give the two river outlets on the south side of town plenty of room, as these can shift and shoals can move, along with tree debris after storm season.
Anchoring:
Cruising boats will cluster around the panga dársena. This small enclosed marina area is meant for pangas and dinghies only, so don't try to take your 40 foot cruiser in there. Anchoring on the south side gives you ready access to the entrance, a shot at wifi from one of the big hotels, but also puts you, unfortunately, close to the sewer release pipes, which can be rather disturbing if your timing is bad. Certainly if you plan to swim, it's best to anchor on the north side of the dársena, which also may result in less panga wake. In either case, it will be in good holding sand at 10-20 feet.
A note on weather: There are plenty of cruisers who choose to never anchor here because it's so open to weather. And some parts of the year that might make sense. But spring into summer months, when most boats are transiting this area, it can be super pleasant if you arrive in the morning. The typical pattern is for a very quiet, flat morning, with breeze from E or SE starting around 11, and filling in by 1 or 2pm. By that time your boat may be bucking a bit in medium sized chop. So if that sounds horrible to you, start your day at Los Coronados or Nopolo, get to the waterfront early, and get out early, too. But if weather looks mild for the whole day and overnight, take advantage and stay a while.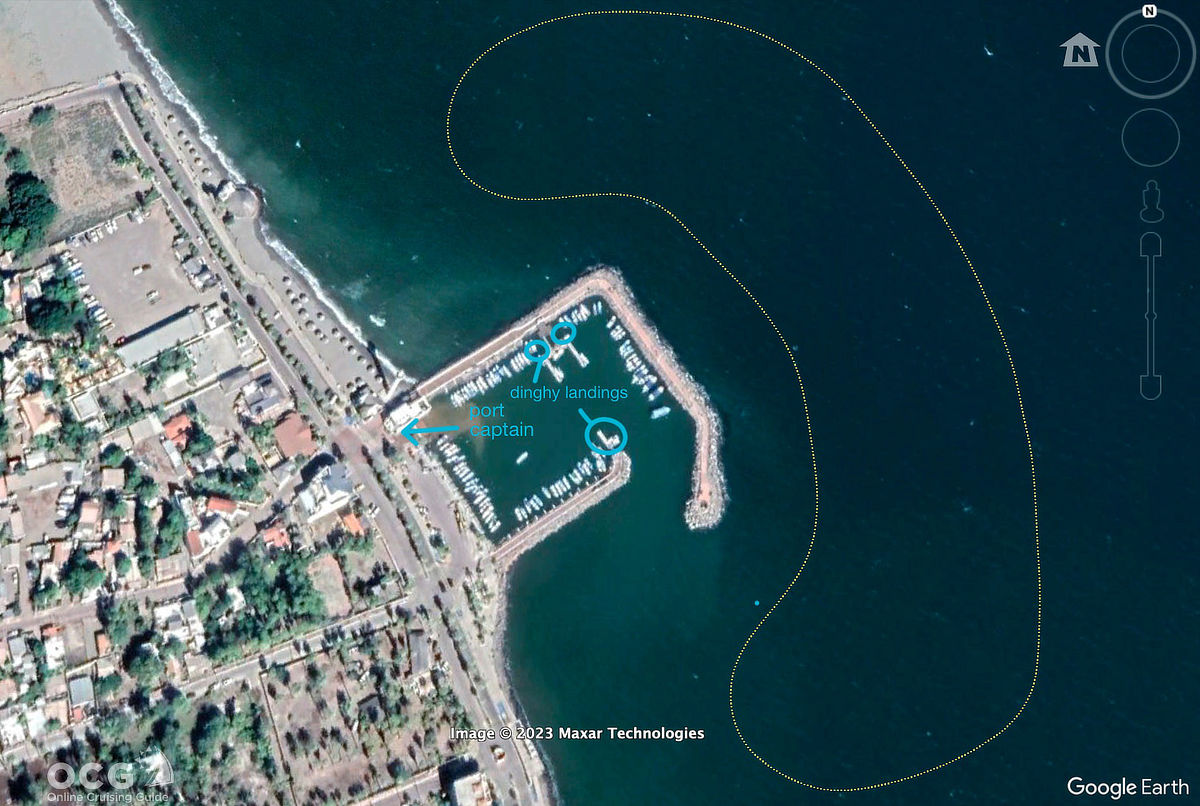 Click gallery above title for more images.
Ashore:
There has been much made of the new charges here at the API office (building at base of main wharf, parking lot side), which began summer of 2020. It's our understanding that the pangueros, who are subject to per-person fees whenever they come and go from the dársena docks, felt it unfair that cruisers in their dinghies were accessing the same infrastructure for free. The fees seem to still be in flux, but can catch people by surprise, especially if you bring trash in. Note that the fee structure is per-visit, so technically it would be due each time you came ashore. There seems to be some leniency developing on that front (so you might come and go multiple times in a day), but still expect to pay 185 pesos, sometimes more, per couple. Add up to 200 pesos for trash (per bag).
Once ashore, it's a short walk into the heart of Loreto. Have fun! And please add your favorite places to this guide. It's free to do so!
Don't Miss:
In our opinion, a morning trip to Loreto would not be complete without a poblano omelette from Orlando's Restaurant. All the food there is good, but seriously. This particular breakfast treat is amazing, and will certainly keep you from shopping on an empty stomach, as we all know how that turns out.