Once hailed as the "Galapagos of Mexico," this tiny volcanic island is a favorite stop for many cruisers north or southbound, and when crossing between mainland and the Baja. It's a National Park area, and a primary rookery for boobies (including blue-footed) and frigate birds. The scenery, bird activity, excellent snorkeling and fishing bring us back whenever possible.
Approach:
Open approach from any quadrant, but keep your eyes out for shrimp boats to the south and east, and whales in season. There are some shoals that extend to the north of the island as well. The Las Monas anchorage is open and fairly deep, but shelves quickly near shore where small surf breaks.
Anchoring:
The south bight is technically a better anchorage in terms of areas of protection, but we prefer the eastern side (Las Monas) for better swimming and snorkeling opportunities, less surge, and a (smallish) sandy bottom. Room for 3-5 boats, depending on orientation. We've found the best large sand patch about 200 yards south of the southern pinnacle. Line up the tower of the northern pinnacle in the mouth of the prominent notch of the southern pinnacle, and you'll be just about on top of it. 20 feet or so. This is a place to anchor in relatively settled weather/swell conditions.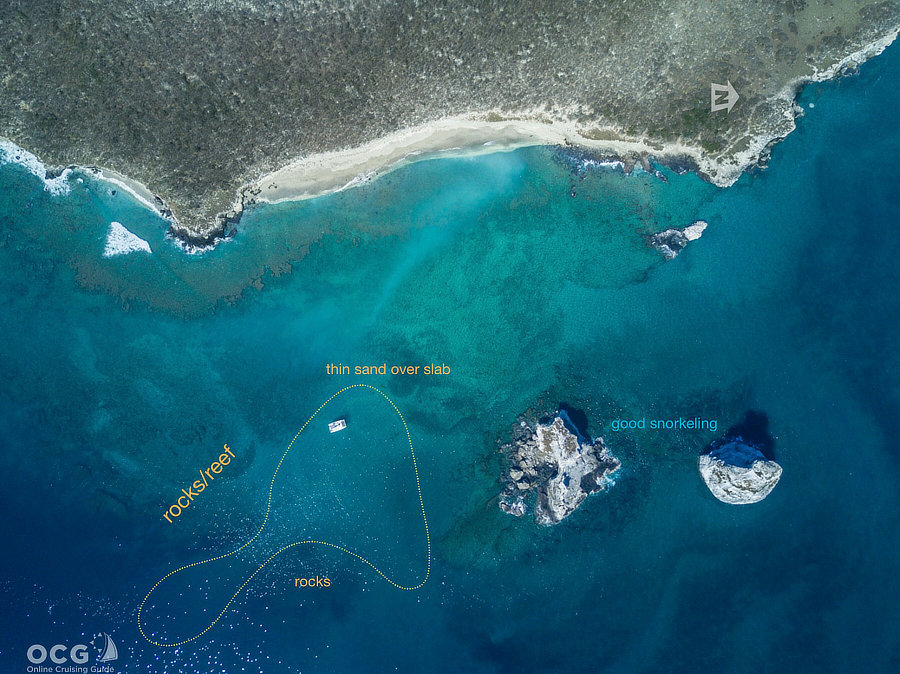 Click on gallery above title for more images
Ashore:
Birds, birds, birds! And a small seasonal fish camp, and typically some biologists doing bird research in a small camp on the eastern shore. There is a small network of hiking trails that can take you to the green caldera lake, up on the ridge lines, or past the remains of the old school building left behind from busier days. The best shore access is certainly by dinghy into the south bight, where there is an inner bay in front of the fish shacks. Make sure to pull the dinghy up in a way that doesn't interfere with the working fishermen.
Don't Miss:
Snorkeling around Las Monas. Storm damage and warming waters have taken a toll on the corals in this area, but the jumbled rocks and nooks and crannies still harbor a lot of reef fish. Schools of huge jacks are also common, along with Spotted Eagle Rays and sometimes turtles. During whale migration season (Dec – Mar), you can expect to hear the songs of humpbacks while swimming. Spectacular.