Chamela proper is a very limited anchorage, if an anchorage at all. During some swell or wind directions, this area is not tenable, or at least not comfortable at all. But in favorable conditions it can be a charming spot, nestled among the small islands in the south end of the bay, catching some surf and watching the pangas come in and out.
Approach:
Open from the north and south. You're aiming for the space between Islas San Pedro and San Augustin and the mainland shore. There is a panga landing and prominent driftwood snags on the beach. Don't try to anchor too close to shore here, as it has many sandbars that migrate with storm and swell activity. If approaching from the south, it seems tight, but there is adequate room in a straight line channel between Islas San Andreas and Negrita.
Anchoring/Mooring:
It's basically a roadstead anchoring situation in 12-18 feet, over sand. Favor the island side of the channel, or move in toward the pocket cove below the house, south of the panga landing. Do NOT try to anchor in close to the driftwood snag. There are shifting sandbars here, so pay attention to your sounder.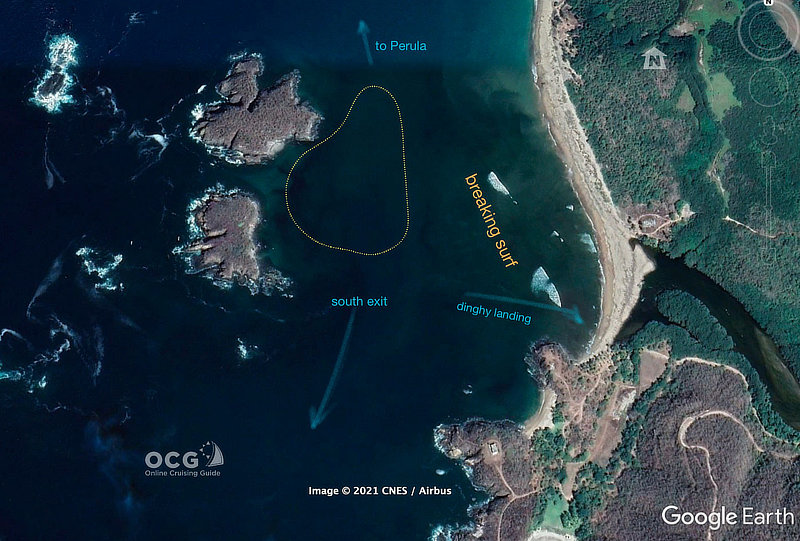 Click on gallery above title for more images
Ashore:
You can land the dinghy at the panga landing or the beach to the north. There is a lagoon behind, and a road from the panga landing takes you to the small fishing village of Chamela, Unfortunately, as of Feb 2022 a security guard for the property on the hill turns cruisers back toward the beach, claiming it's a private road. No access to Chamela village this way…  There are groceries and limited services there, we are told (no first hand knowledge).
Don't Miss:
Even if you're a beginner, catch some surf. It's a sandy bottom here, quite shallow, and the sandbars can kick up decent peaks that are easy to read and paddle into, even if you're no expert. The rides can be quite long if the swell is right, and you'll be smiling all week if you catch a few waves.