San Carlos is a popular stopover for cruisers heading north and south, and for people to put up their boats on the hard for the summer off season. It can be scorching hot, but is visually stunning with decent services available. Marina San Carlos (which includes a small anchorage off the marina) offers good protection from typical seasonal winds and waves, but is quite open to storm surge and swell. Marina Real offers more protection. Bahia Algondones is another anchoring option near San Carlos, and a great place to swim, clean the bottom, test systems and enjoy life on the hook.
Approach:
Coming from south, the headland of Punta San Antonio (which protects Marina Real) is deep-to other than a visible rock just inside the point. Approaching from the north requires clearing the large set of rocks awash one quarter to a half mile SSE of Isla El Venado, the second island that creates a large natural break wall for the bay. If it's dark on approach, avoid this area entirely and enter from the southern half of the bay.
Anchoring:
Once inside the bay, you can anchor anywhere you like. The favorite spots tend to be in the corners (north or SE) depending on prevailing swell, in sand at 15-25 feet. Holding is good. Traffic levels are typically light, but take care not to block the approach to Marina Real.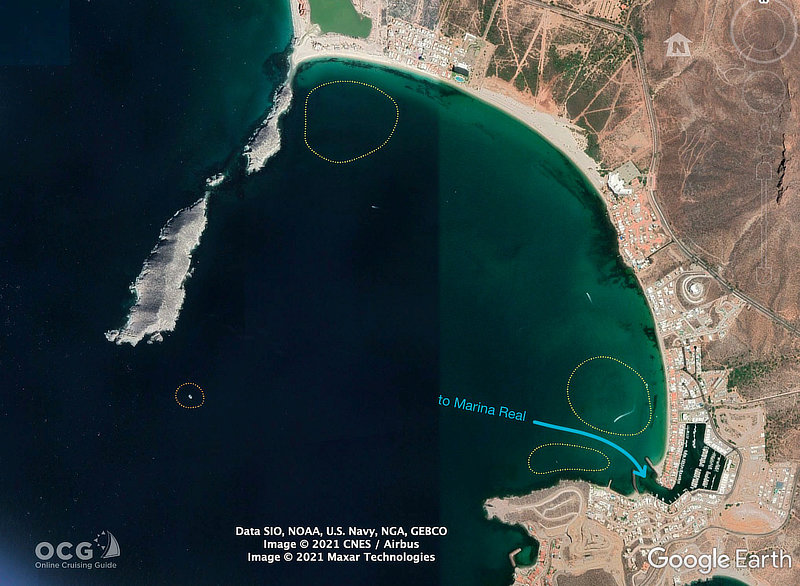 Click gallery images above listing title for more photos.
Ashore:
This is a beautiful beach lined by resorts and a few small businesses. Dinghy landing can often be made in the northern corner of the bay, for a nice walk. You can also dinghy into Marina Real, but there is no real dinghy dock established that we're aware of. Taxi can be had here to go into town for supplies, but there is very little else at Marina Real to capture your attention.
Don't Miss:
A great opportunity to test all your systems, in particular the watermaker, for life on the hook after having the boat hauled out for the off season. It's quiet, beautiful, and will give you a taste of things to come.