San Carlos is a popular stopover for cruisers heading north and south, and for people to put up their boats on the hard for the summer off season. It can be scorching hot, but is visually stunning with decent services available. Caleta Lalo is a beautiful fan-shaped bay open to the south, with excellent swimming and good snorkeling, and a remote feel to it despite being just a stone's throw from Marina Real.
Approach:
There are visible rocks/islet SSE of the east headland that must be cleared. Open from all other reasonable angles.
Anchoring:
Most choose to anchor in the eastern half of the bay, as the western side appears rocky. Tucked into the NE corner you will find good holding sand/small cobble in 15-20 feet, or you can anchor deeper, also in sand/cobble at around 30 feet. In between these areas is a sloping bottom, so take care to check your set if you plan to stay a while.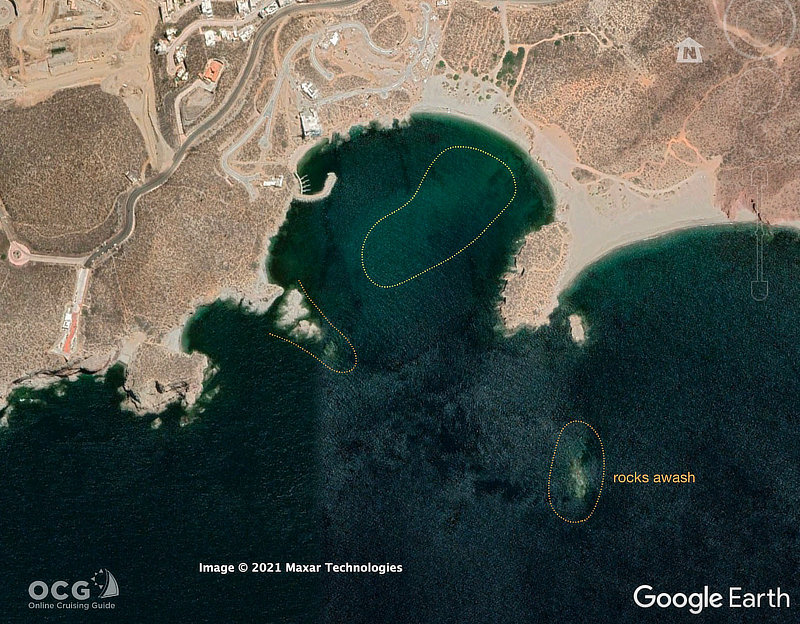 Click the gallery above the title for more images.
Ashore:
Caleta Lalo is a popular swimming (pebble and sand) beach for locals, and for good reason. So it gets a fair amount of traffic on weekends and afternoons, but is otherwise nice and quiet.
Don't Miss:
You can get ashore in the dinghy and walk the roads that snake around under the iconic Tetas de Cabras peaks (Goat's Teats), which offer excellent views of the surrounding area and a refreshing stop at a bar/restaurant if you choose.