The views of this place from above are nothing short of jaw-dropping. It's a hammerhead shaped island tenuously connected to shore by a sand spit during lower tides. There are camping spaces on the beach, and you're only a short way from the highway, but it's got a special kind of vibe. Many cruisers don't come down this far south, but the unique space and the food at Buena Ventura just to the north is worth the trip. We would only recommend anchoring here in settled weather or moderate S/SE winds. The southern caleta doesn't really offer enough protection from northerly breezes, and the north end, while better, will start to wrap waves around if it gets spicy.
Approach:
Coming down the bay is wide open, but one should take note of the sea mount/pinnacle called Roca Frijoles at 26° 40.52 N, 111° 50.05 W, about 2 miles due north of the north tip of Isla Requeson. When approaching the caletas on either end of Isla Requeson, drop your speed way down and pay attention, as things get shallow IN A HURRY. If you draw 6 feet or more, don't even bother trying to go inside to look around.
Anchoring:
We anchor on the north end, just outside the mouth of the inner caleta, in 20-25 feet at high tide. This gives decent protection in anything up to straight east. It's gorgeous here, and the breeze comes through to keep you cool, while the chop stays outside. Holding is good sand with some grass.
Tip: Looking back over your right shoulder as you approach, if the last building of the Buena Ventura resort to the north begins to disappear, you're probably getting in a bit too close.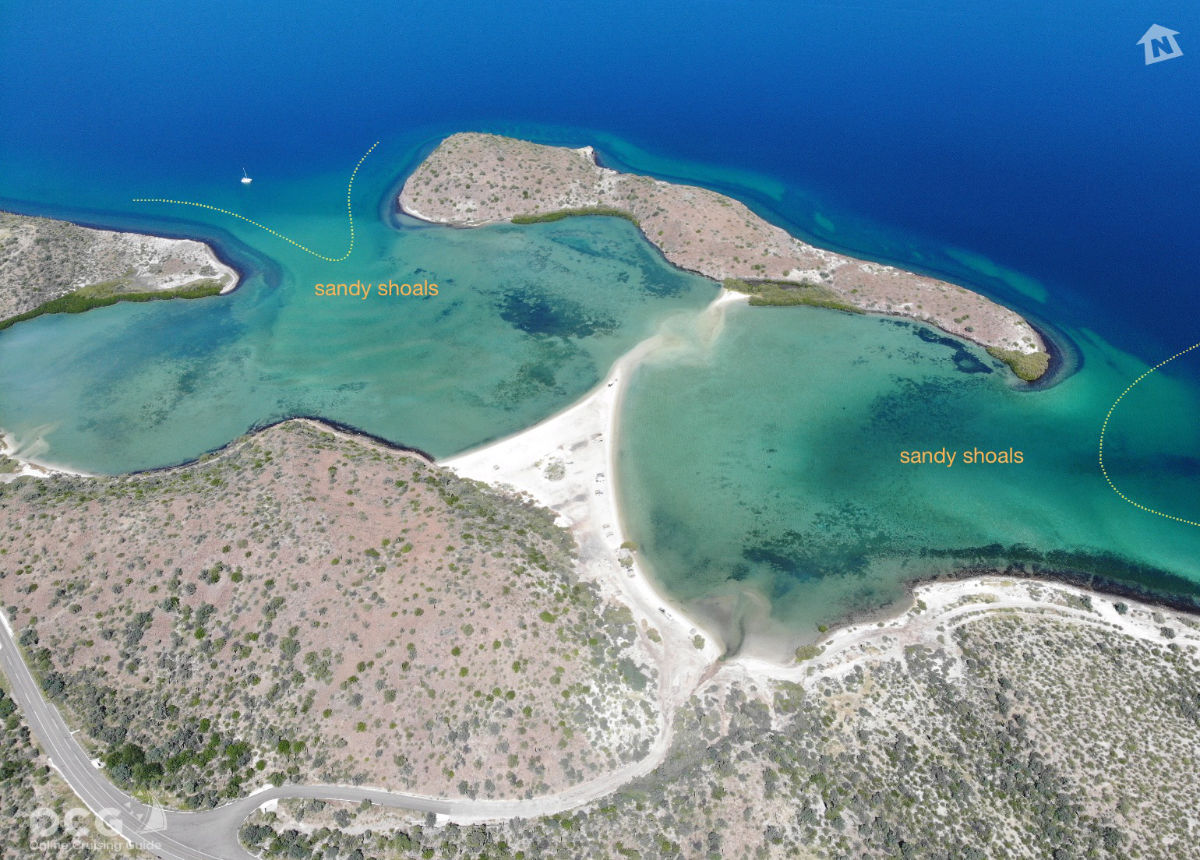 Click on gallery above title for more images
Ashore:
There are a few beach camping spots and a nice beach with sand spit that connects to the island. Great place to paddle your SUP. A short dinghy ride or road walk north brings you to Buena Ventura Resort, as small operation with a good restaurant and a small market.
Don't Miss:
Maybe it's time to have a nice meal ashore. Hit the Buena Ventura. Nathan and his staff go out of the way to make people feel at home. They are known for fish sandwiches, and almost every restaurant here claims to have the best fish tacos. Might as well find out…