This place is crazy. Sure, you find rocky shores all over the Virgin Islands, but nothing like this. These are the gigantic toy marbles and building blocks of some fairy tale giant, left behind in a tumble-down mess along a scenic shore. The result is a collection of hidden pools, fantastic plays of light, and a sense of childhood exploration renewed in anyone who wanders through. Make this a must do, although we would recommend coming EARLY in the morning or in slightly questionable weather to avoid the usual crowds at this popular spot.
Approach:
Is straightforward, considering you have very deep water right up to the boulders, and only one small breaking rock far to the north along the shore. The whole of The Baths is a protected shore, so it can be delightful even in a strong trade wind easterly.
Anchoring/Mooring:
Take a mooring, and don't even think about anchoring. If all of the balls are taken, you probably want to try again another time anyway, as the grottoes will likely be reminiscent of a zoo. You should have the BVI National Parks mooring permit for this stop.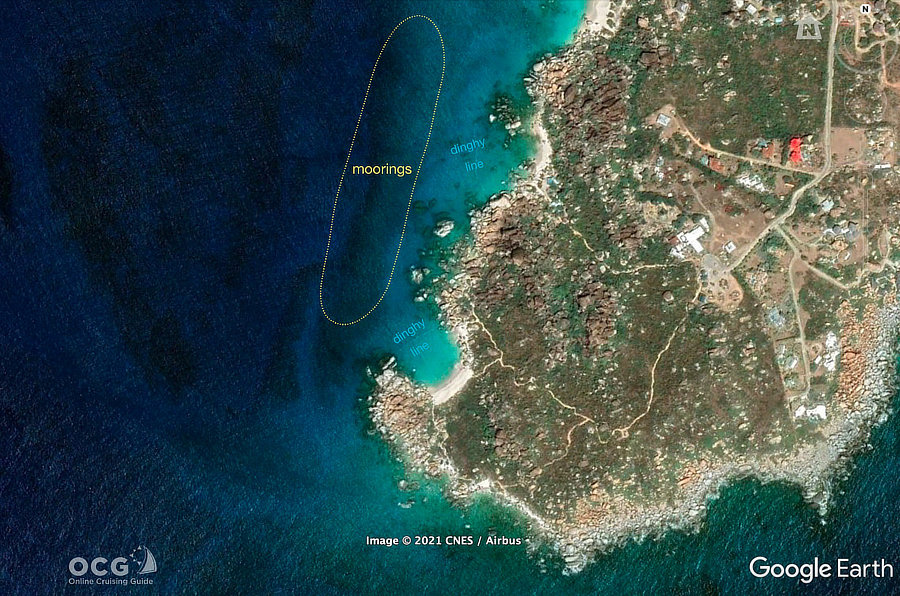 Ashore:
Spring Bay is technically private, and dinghys are not allowed on any shore along The Baths because of the prevalent surf and overcrowding. The options are: Dinghy a group in close to shore, drop them, then tie off to the dinghy tether line draped between two buoys off the main beach; or don snorkeling gear and swim in from the boat (our preference), enjoying gliding over huge submerged boulders and a good collection of corals and sea life. This gives you the opportunity to stroll through The Baths one-way, then snorkel back out to the boat. Fantastic.
Don't Miss:
Taking your camera to The Baths. You will certainly be kicking yourself later if you don't get some shots of the crew in the glittering, otherworldly grottoes of The Baths. The light is usually interesting, and you are almost guaranteed the primo shots of the entire trip, suitable for framing. Get a plastic case and take it with you!