We had an amazing wildlife encounter today. We took the dinghy to the north side of the Coronados (see "Where's Free Luff" for geographic reference) so Rand could (legally) spear fish, but, unfortunately, the fishing and the snorkeling were just mediocre. So we got back in the boat and wandered a little further east where some dolphins were leaping out of the water and putting on quite a show, and there are super cool rock formations to see. After checking things out for a bit, we started back for the anchorage. As we were approaching the NW point of the island, Rand could see spouts ahead. Too big to be dolphins and too small and too many to be larger whales. We thought pilot whales at first, but very quickly identified them as orcas.
Mind you, after being in Mexico for almost four years and hearing from many of our fellow sailors about the pods of orcas they've observed, we had never seen a single one. Until today. And, wow, was it something. The pod was coming towards us, so we stopped the outboard and just waited. I was sitting on the bow of the dinghy with my legs hanging over the edge as I often do, when a huge head appeared not 10-ft directly in front of the boat. With my eyes bugging out of my head, all I could do was put my hand over my mouth, and stay silent. As the orca descended, it had to change course in order to miss us, and we watched as it swam underneath us. Right at that same moment, at least three other individuals surfaced right next to us to take a breath. Unbelievable.
Now the first group was behind us, heading toward the dolphins and another group was coming at us. In this group, one individual sported a gigantic dorsal fin, leading us to believe it was a big male. We also think there was a large female with two calves that were still much bigger than our boat. As this group passed within feet of us, we could hear quite the ruckus from behind – the dolphins were ploughing, not jumping, and not obviously breathing, through the water at speed, hugging the shore, which put them in less than 10-ft of water. We're assuming it was a flight response, to escape the jaws of the orcas – they were not dawdling. What we think was the female and her calves went inshore as well, and we could see the water bubbling up and the smaller whales jumping out of the water. This behavior was also occurring a bit further offshore – we could see these multi-ton animals leaping out of the water, with dolphins leaping and speeding away. We don't know if any of the dolphins succumbed to their larger cousins, but we never did see any blood in the water.
With the dolphins seemingly safely away, another group of orcas approached us and again passed within feet of the boat. We were astonished and still speechless by this experience. With us just sitting in the dinghy with our eyes wide open and our mouths agape, we could still see several of the orcas frolicking and jumping out of the water a little ways away. We were left with a sense of awe and unexpected giddiness. Definitely one for the memory books – and this was strictly for our memory banks since we didn't have a camera.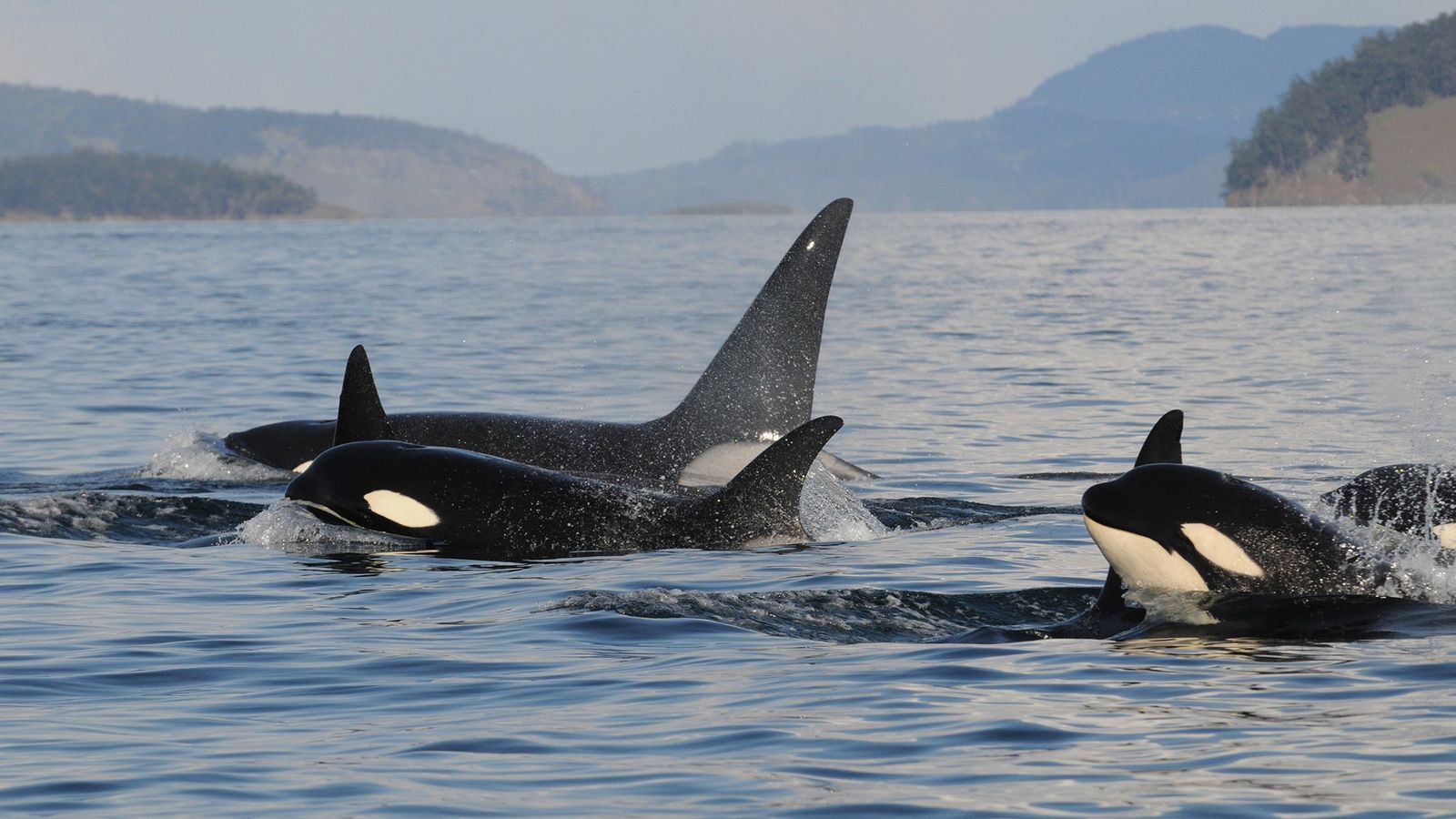 Photo credits: Featured image – Aquarium Costa de Almeria, 2019; Pod – National Geographic, 2019