This place is simply gorgeous. Magical, almost. It can be howling a near gale outside, and just a couple hundred yards inside Animas Slot is peace and quiet, a sweet beach, and some of the best snorkeling in the northern Sea. While it gobbles up sea and winds from SE or west, it's obviously totally open to the north. So choose your time wisely. On your way to Bahia de Los Angeles in summer? Put this one on your list.
Approach
There is a substantial reef that usually shows breaking waves guarding the east entrance to Animas Slot. This is an extension of the rocky point that separates Animas Slot from Enmedio to the east, and needs to be given room. Once you clear that, the slot is deep and steep walled, in particular on the west side.
Anchoring
The slot is fairly deep until you are way in there. Since it's narrow, it pays to anchor in less water with a smaller swinging circle. There is a prominent rocky reef in the SE side of the anchorage, which is clearly visible against the otherwise bright sandy bottom. We split the space between this rocky area and the S end of the large rock islet that makes up the western wall of the slot, and drop the hook in 20-25 feet, in good holding sand.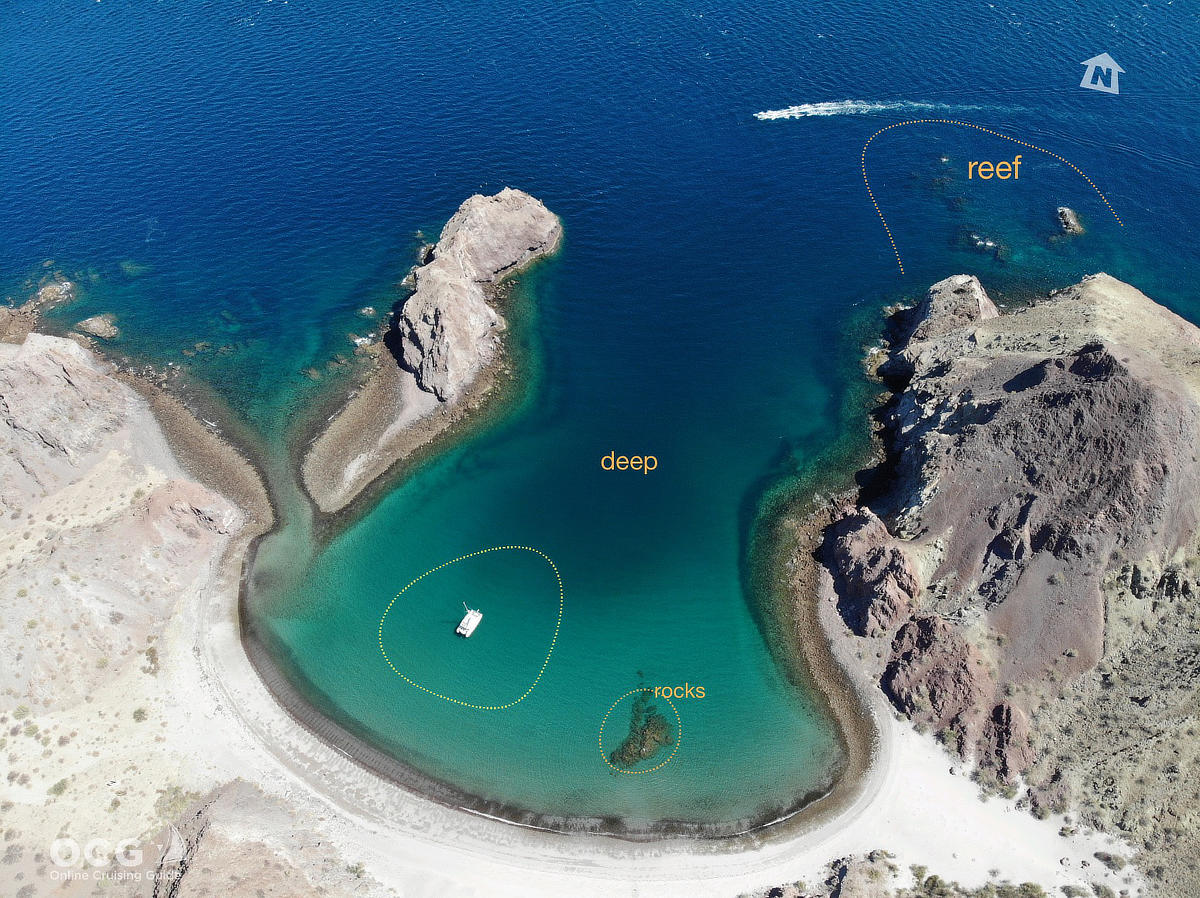 Ashore
Nice beach. Steep cliff walls and slopes. Not much of anywhere to go, but why would you?
Don't Miss
If you leave Animas Slot without snorkeling around the rock islet, or at least trying to, consider yourself scolded. It's spectacular. Every couple hundred meters is a different habitat, with plentiful fish everywhere. It's visually dramatic, and a rare chance to snorkel a loop, if the current will allow you. We mention the current as you MUST let this determine if and when you attempt a full circum-swim. You also might not be able to complete it if the channel between the rock islet and the shore is super shallow at low tide. So a high slack tide is probably your best shot.