While still suffering from a poor reputation brought on by a string of petty thefts many years ago, Stone Island is actually a charming bay with decent north protection, some excellent food and walking ashore, and one of the easiest shore landings for the dinghy.
Approach:
Open from the south. From the north you must keep close watch for traffic in and out of the main port channel just to the north, as well as the scattering of small rocky outcrops north and south of the channel (Piedra Negra is south, and your most dangerous mark). Keep at least 200 meters off the breakwater that forms the harbor channel entrance, and mind the prominent rock islet (Isla Cordones) that divides the bay. In case you haven't picked up on it this is probably not a good place to come into at night.
Anchoring:
There is good holding here, either hugging the rip rap on the north side, or in the middle of the bay. Some boats have anchored between the large rock islet and shore to avoid swell, but this doesn't work as well as one might think. Anchoring in sand is typically in 12-30 feet.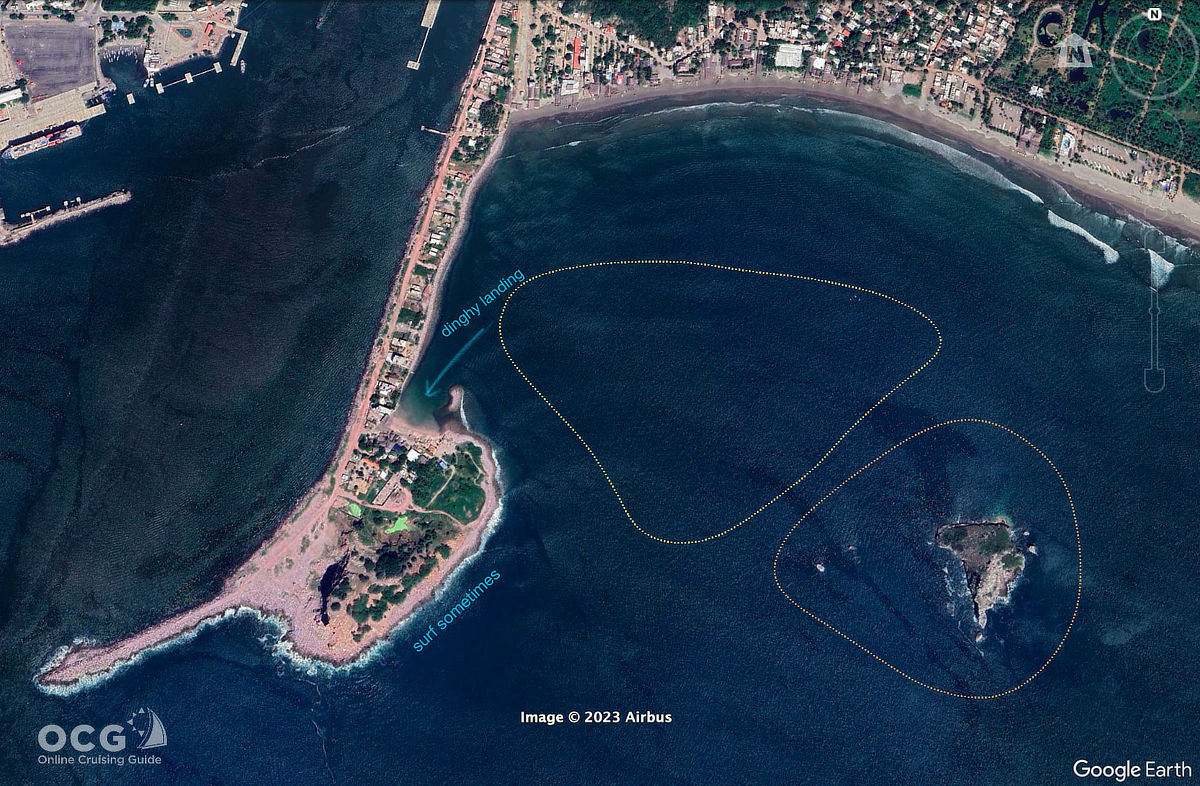 Click gallery above listing title for more images.
Ashore:
One of the nicest things about Stone Island is the beach landing. While the main beach looks intimidating with any kind of swell running, there is a small caleta on the north wall that allows for a very gentle landing, but it's also quite shallow and sandbar laden, so watch your prop on approach during a lowish tide. Once in, you can enjoy the handful of nice spots here in the caleta, or walk for a few minutes to get onto the main beach, which is chock full of palapa bars with small tiendas on the road behind. The road wraps around the hill to proper fishing village on the NE side, with a more substantial grocery store and more food/service options.
There can be a small right hand surf break that wraps along the north wall in a NW swell. That means the anchorage has potential to be pretty rolly for tender vessels, who might want a stern hook, or to find a spot tucked into the NW.
Don't Miss:
Pizza and a hammock swing at La Caleta. This is the remnants of a popular pizza cruiser hangout, that has been re-gentrified into an attractive beachside bar and restaurant. If you're lucky you will also probably run into Lobo, who will be happy to fetch any supplies you might need for an attractive price.