February 3 – March 14, 2019
For the past few years, we've been doing laps between the Baja Peninsula and the Sea of Cortez and mainland Mexico as far south as Santiago Bay/Manzanillo. We cover a lot of ground each year and frequent many of the same places time and time again, but they never get old. To give you an idea of the distances, here's a screen shot of our track over the past year and a half – you can check it out anytime via the "Where's Free Luff" link in the navigation above 😉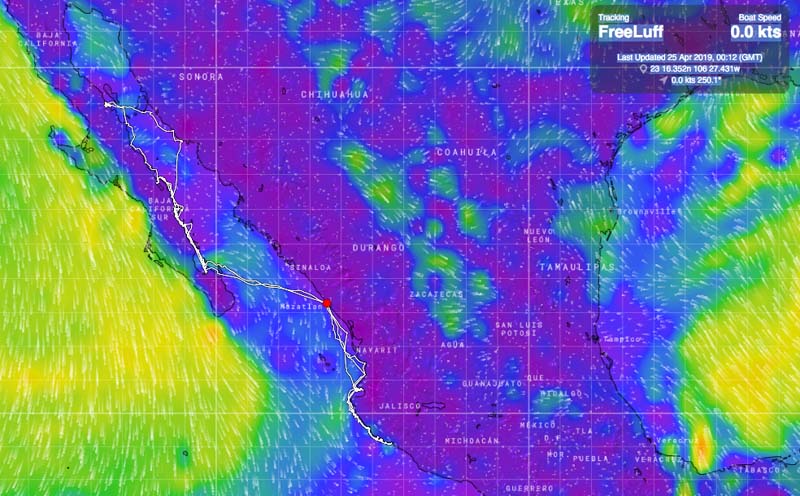 In particular, Barra de Navidad is a place where, every time we're here, we stay too long, eat too much (and gain a few lbs. and probably experience a few ticks up on the cholesterol scale), and most importantly, we generally see some visitors from home. Here are a few of the reasons why we become so entrenched (don't be surprised that they mostly have to do with food): The French Baker (Emeric), Miriam's street tacos, Pastorcito tacos, Rinconcito stuffed potatoes, Javi's Churros, sunsets at the Barra Hotel, walks to Secret Beach followed by the best margaritas in Mexico at The View in Colimilla, quick trips to Cuastecomates for snorkeling and water-making, and no trip to Barra would be complete without the death-defying bus rides to Melaque for groceries at the Super Hawaii (i.e., the "gringo store") and getting money at the Banamex ATM (because the ATM in Barra is almost always out of service).
But far and away, the best thing about Barra is that, for the past three seasons, we've been able to spend time with Vanessa, mi cuñada (sister-in-law), because she makes the trek each year from Alaska to participate in an annual sensory awareness workshop; a workshop that I was lucky enough to be a part of during the 2017 season. Then last year, a bunch of family came down for Annie and Vanessa's nuptials, and then this year, Annie came down for a visit while Vanessa sensed. And of course, many of our boat family were in the vicinity because this is a place where sailors tend to gather, so that's always a blast. Plus, we were lucky enough to meet some new-to-us sailors, like John and Sue on Valkarie, Sonni and Brad on Luego, and Randy on Simplify. The icing on the cake was reuniting with our Thailand mofos, Jeff and Brenda on Adventurer and Jenn and Jason on Danika, AND getting a visit from Thad and Kristin, formerly of She's No Lady, our very first buddy boat in Mexico.
Our timing here also coincides with Rand's annual brothers' ski trip, so while he was off gallivanting in the great white north (this year, it was Nelson, BC), I was minding da boat and, therefore, responsible for my very own caloric intake. As most of you know, Rand is the chef aboard FL and, while I may be able to make a pretty good batch of eggs and potatoes for breakfast, I generally rely on him for most of my other nutrition. Lucky for me, our friends on other boats cook, and Thad cooks, and the French Baker cooks, and the water taxi delivered me to shore where all of those eating establishments mentioned above just happen to be located. Whew! Dodged that bullet. I did not starve.
And it's a good thing I was surrounded by good cooks and several fabulous restaurants because almost as soon as Rand got back from skiing, his mom landed in the ER due to complications from a faulty heart valve, and it was determined that the surgery, one she had hoped to delay until after hers and pop-in-law's annual winter trip to Florida, was going to get scheduled asap. And because of his bro's scheduling conflicts, the baby of the family (that would be Randy) volunteered to fly back to Michigan to be with his folks for mom's surgery and to help keep dad on top of his own medical needs. This makes it sound like my inlaws are in horrible shape, but the opposite is true, really. They're two of the most active octogenarians I know. They work out regularly, cross country ski in the winter time, and hike in the summer time…amazing really. But they're kind of old and they need repairs now and then. We're happy to report that mom's surgery went off without a hitch and she and pop-in-law were down in Florida within 10 days of the surgery. So, Rand was returned to me a couple of weeks later, having missed Thad and Kristin completely, but he was able to connect with all of our other boat people – with Krispy Kremes in hand, no less!
By the time Rand got back to Barra, it was time to start thinking about heading north again, as the Sacketts were arriving at Punta de Mita at the end of March for Maggie's spring break. We're so stoked that we connected with them twice in just a few months – the last time was Thanksgiving in Bahía Concepción…soooo fun! Ok, off we go! Enjoy the pics and Adventurer's video at the end!
The Barra Gallery
The Randy Gallery
Thanks, Jeff and Brenda, for documenting our time in Barra!! For more of Adventurer's videos about ours and their time in Barra and beyond, check 'em out on their YouTube channel!